Battery Boosters
Cell Phone Tips
Lock buttons down: Mobile phones take a pounding when they ride around in pockets and at the bottom of purses and briefcases. Often the result is accidental button presses, which can run your backlight excessively and even initiate accidental calls. These scenarios not only consume battery power, but they could also hike up your phone bill. Save battery power by locking the keys on your phone. Most handsets have a lock feature that disables button presses until you enter a specific code. If you can't figure it out from the phone menus, consult the manual, look on the phone maker's Web site, or call customer support.
Use airplane mode--it isn't just for airplanes: Many handsets offer an "airplane mode" or "flight mode" that turns off the internal radio yet leaves the organizer and other features intact. It's great for flying, but it's also a good battery saver if you can't or don't want to answer calls but want to check the time--such as when you're sitting through the last hour of King Kong.
Go easy on extras: Bluetooth, text messaging, games, music playing--all are nice features for your phone, but all are power hungry too. If your phone can't get through the day on a single charge, consider nixing Bluetooth or getting a separate device to handle your messaging, gaming, and music-listening needs.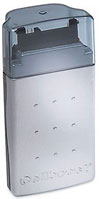 Cellboost
Plug one of these disposable, pocket-size capsules into your handset's power port for an instant recharge that delivers about an hour of extra talk time. Adapters vary by phone model. ($5 to $13; www.cellboost.com)
ElectriLite Crank Flashlight Cell Phone Charger

Crank the handle on this flashlight and cell phone charger hybrid (adapters included) for 3 minutes, and you can provide your handset up to 8 minutes of talk time. Keep cranking if you have to call technical support. ($25; www.electrilite.com)
For comprehensive coverage of the Android ecosystem, visit Greenbot.com.