TOKYO -- Sony put its latest Network Walkman players on sale in Japan Saturday wit was a nice surprise for consumers: lower prices than were expected.
The company's A-series models, which include both flash memory and hard-disk drive based devices, are available for between $10 and $44, cheaper than the price anticipated by Sony at their unveiling in September this year.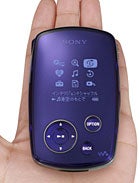 The biggest difference can be seen in the price of the 600-series flash-based players that compete with Apple's new iPod nano player, which was announced in San Francisco hours before Sony unveiled the A-series players in Tokyo in September. All of the players, available in 2GB, 1GB, and 512MB capacities, cost at least $43 lower than estimated.
Price Comparisons
The 2GB NW-A608 is available from major retailers and Sony's own Web shop for $225 and several online retailers are selling it for around $199. Back in September, Sony estimated it would cost $289 when launched. In comparison, a 2GB iPod nano costs $199 from Apple and around $180 from online retailers.
"Sony needs to raise its market share of MP3 players, so it had to cut its prices in the market," said Hiroyuki Shimizu, an analyst at Gartner in Tokyo.
Sony, like many Japanese electronics companies, doesn't announce an official retail price, preferring to name an estimated street price. In this case, the company said the difference is a result of its estimation being off the mark. However, such estimations are usually much closer to the retail price.
"The prices of competitors are much lower than Sony's prices," Shimizu said.
Targeting Apple
The lower prices make Sony's A-series more competitive with devices from other vendors. For example, the top-of-the-line 20GB NW-A3000 costs $275 from Sony's Web shop against the company's original estimate of $316. That makes it roughly the same price as Toshiba's X20 Gigabeat player that was launched last week. Creative Technology charges $240 for a 20GB Zen player and Apple's 30GB video-compatible iPod costs approximately $300 in both Japan and the U.S.
Sony is highlighting the long battery life of the A-series models in its promotions of the devices. The company claims a 50-hour battery life for the flash-based players under optimal conditions and had a group of three dancers stage a 50-hour dance performance in Tokyo's trendy Shibuya district from Thursday until Saturday morning when the players went on sale.