Digital Photo Superguide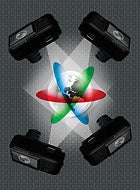 Forget baseball--America's real national pastime is taking pictures.
Twenty years ago, 110-format film cameras ruled the earth. A decade ago, Advanced Photo System cameras were the kings of the snapshot. But today, unquestionably, digital is it. Thanks to digital technology, the average picture you take today is noticeably better than the average shot you captured ten years ago. That's great--but the biggest boon of going digital is that it makes taking (and sharing) your photographs easier, including being able to review your shots and throw away the bad ones.
So besides testing this month's Top 10 point-and-shoot cameras, we've rounded up a dozen interesting products and services that can enhance your digital photo experience and give your snaps some extra zing.
In This Article:

Amazon Shop buttons are programmatically attached to all reviews, regardless of products' final review scores. Our parent company, IDG, receives advertisement revenue for shopping activity generated by the links. Because the buttons are attached programmatically, they should not be interpreted as editorial endorsements.