Apple's Minuscule iPod Nano Dazzles
At a Glance
Apple iPod nano, first generation (1G) 2GB

TechHive Rating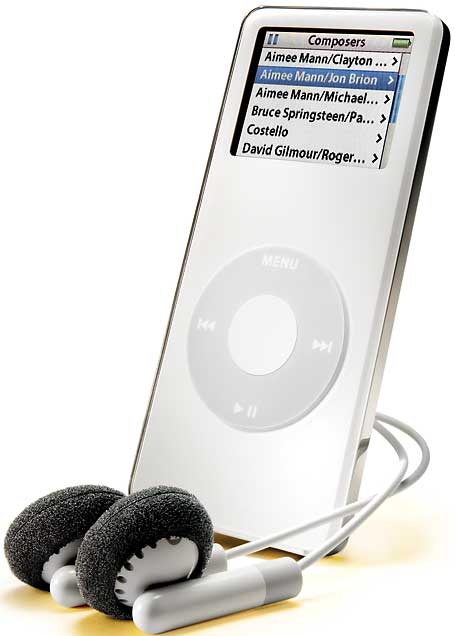 The first thing you notice about the flash-based iPod Nano, of course, is its tiny size. But what's really impressive about the Nano--and represents a breakthrough for the category of lilliputian MP3 players--is its bright, crisp color display, which makes navigating your tunes a snap.
The slim Nano costs $249 for the 4GB version; a 2GB model sells for $199. It weighs 1.5 ounces and is about 0.25 inch thick--so small that you scarcely feel it when you have the Nano in your shirt pocket. Surprisingly, its size was no impediment to functionality: I navigated the Nano's menus, displayed on its barely-larger-than-a-postage-stamp display, without difficulty. The unit's screen resolution is sufficiently high that it can fit as many as 27 characters across, in extremely readable type.
But as good as the display is, you shouldn't get too excited about the Nano's ability to display photos: The shots I viewed looked dark, and even high-quality photos don't look so great when they are shrunk down to 1.5 inches across.
Whereas most flash-based players top out at 1GB, the Nano falls into the midcapacity range once exclusively the domain of players that carried internal hard drives. I put 433 songs (encoded at anywhere from 128 kbps to 192 kbps) on the 2GB model I tested. Because it uses flash memory, the Nano should be more rugged than its hard-drive counterparts, and thus more attractive to joggers, bicyclists, and others unwilling to risk ruining a hard-drive player during their exertions.
Apple has taken its signature scroll wheel and shrunk it to Nano-size proportions. This initially concerned me, since I have big, clumsy thumbs, but I had no trouble navigating the Nano. In my tests the sound was very good, too, even over the included earbuds.
Like other iPods, the Nano uses a rechargeable battery that you can't replace. It ships without an AC adapter, so you have to charge it through the included cable and your USB port. That process takes about 3 hours, and a single charge should last you 14 hours, according to Apple.
My chief complaint about the Nano involves the unfortunate design decision of positioning its headphone jack at the bottom of the player. This arrangement prevents users from standing the player up on a table while listening to it.
But if you're an iTunes devotee already--or if you want a featherweight, fashionable MP3 player--you'll find plenty to love about the iPod Nano.
Edward N. Albro
Apple iPod Nano

Its high-capacity flash memory and crisp color screen make this stylish music player a standout.
List: 2GB $199, 4GB $249
Current prices (if available)
This story, "Apple's Minuscule iPod Nano Dazzles" was originally published by PCWorld.
At a Glance
Apple iPod nano, first generation (1G) 2GB

TechHive Rating
Shop Tech Products at Amazon