Fujifilm's Simple, Slim Shooter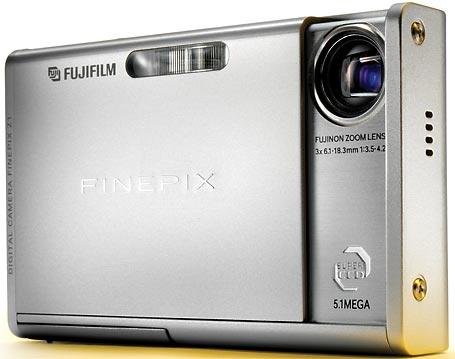 These days if you want a skinny camera, you have an embarrassment of riches to choose from, among them Casio's Exilim series, Nikon's Coolpix S1, and Sony's Cyber-shot DSC T7. Now Fujifilm enters the market with its slim and lightweight FinePix Z1. The 5.1-megapixel Z1 offers hardware specs on a par with those of the competition. But when it comes to the most important factor--photo quality--the Z1 is a disappointment.
On the positive side, the Z1's intuitive menus make it a pleasure to use. You can zoom in up to 3X optically (for a focal range of 36 to 108 millimeters in 35mm-film equivalent), and you can tweak the exposure and white balance--but not the aperture and shutter speed. The sliding lens cover functions as the power switch, but its lack of a grip can make opening difficult.
Sadly, the Z1's image quality was far inferior to that of other point-and-shoots we've recently tested; the camera produced blurry shots, for example. Even its Natural Light trick (which automatically disables the flash, speeds up the shutter, adjusts the aperture, and increases the ISO setting to up to ISO 800) was disappointing. The lighting and shadows in my indoor photos looked fine, but the shots had color artifacts and graininess.
On the Z1's 2.5-inch LCD, images appeared grainy and had color noise, as well; these problems were all the more obvious on my PC monitor.
Style and user-friendliness are the Z1's strong points. But its major weakness, image quality, is a whopper. If you want a superslim camera, go for the comparably priced Nikon S1 or the $400 Casio Exilim EX-S500; both models performed better in our tests.
Fujifilm FinePix Z1
This point-and-shoot camera's inferior photo quality offsets its excellent ease of use and superslim, stylish design.
Price when reviewed: $380
Current prices
(if available)