Powerful Cameras, Lower Prices
Page 4 of 5
Pros and Cons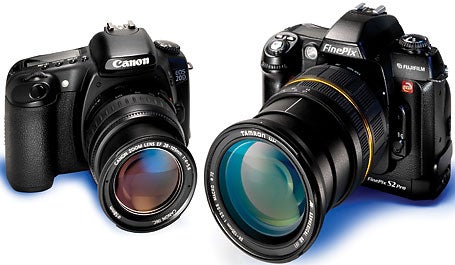 Despite the overall superiority of SLRs, not every picture-taking situation calls for one; you're unlikely to use an SLR's extensive capabilities for everyday snapshots. SLRs also tend to be larger and weightier than advanced point-and-shoot cameras. And if the ability to record video with your camera appeals to you, an SLR won't make you happy--none of the digital SLR models we tested record video.
The price of digital SLRs is no longer prohibitive, although the models on our chart start at a still-significant $800 without a lens. The latest contender to come out swinging is the $900 Nikon D50, but it arrived too late for us to include in this roundup; click here for a detailed review.
If you want to go digital and you already own a bunch of lenses for a 35mm SLR, consider buying a body from the same maker--unless it's Olympus, whose digital SLRs require specific lenses. Another option if you own Nikon lenses is the Fujifilm FinePix S2 Pro, which comes equipped with a Nikon lens mount.
Product Reviews
For in-depth reviews of the cameras discussed in this article, click on the following links:
Eric Butterfield
Shop Tech Products at Amazon