Powerful Cameras, Lower Prices
Page 3 of 5
Preventing Digital Noise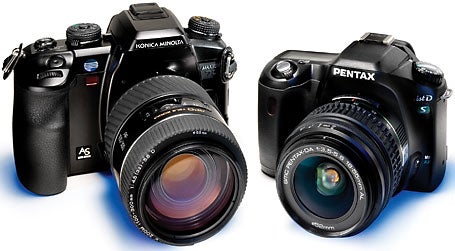 Digital cameras offer a distinct benefit in their ability to change their ISO without your having to swap film (or carry multiple cameras loaded with a different film). But like the grainy shots you get when using high-ISO 35mm film, digital images shot at higher ISO settings tend to have more digital noise.
A new test developed by the PC World Test Center enables our jury to evaluate how well cameras minimize noise at a range of ISOs. The Konica Minolta Maxxum 7D and the Canon EOS 20D earned the highest scores on this test, introducing very little noise even at ISO 1600. The Konica Minolta Maxxum 7D and the Pentax *ist DS are the only two cameras here that can shoot at ISO 3200, though at that setting both cameras produced noisy images. The Olympus EVolt E-300, which shoots at up to ISO 1600, received the lowest score in our noise tests. "Comparing Digital Noise," below, shows examples.
You don't have to shoot at a high ISO setting to see distortions, however. Some of the photographs we took using each camera's lowest available ISO setting contained noticeable artifacts. The subject--a chart containing moiré patterns, fine parallel lines, and text--proved challenging for some cameras. After cropping out most of the image, we enlarged the remainder to study the fine details.
The Nikon D70s introduced the most glaring color interference to both the parallel lines and the text. The Pentax *ist DS produced the haziest image of these fine details, while the Canon 20D rendered the sharpest one. Among the lower-cost SLRs, the Canon Digital Rebel XT introduced the fewest color artifacts and the least distortion. Though you may not notice such artifacts in an uncropped image printed at 8 by 10 inches, being able to crop closely and make a large print without distracting distortions gives you a lot of flexibility. By comparison, the advanced point-and-shoots that we put through this test produced a lot more noise at lower ISOs than any of the SLRs we tested.
We've found that SLRs frequently underexpose their shots when using automatic settings, perhaps to preserve detail in highlights. But SLR users are unlikely simply to snap away with automatic settings. That's why we now include a shot taken with manual adjustments made to exposure settings and white balance. On this test, Fujifilm's FinePix S2 Pro earned the highest score, although its score for a photo taken with fully automatic settings was only in the middle of the pack. (For all tests, we shoot our photos at the camera's highest-quality JPEG setting.)
Unique Features
In an effort to distinguish themselves, some SLRs tout potentially innovative features. The Olympus EVolt E-300 uses predictive focusing, which attempts to forecast where your moving subject will be when you trip the shutter. In images taken of fast-moving cars both with and without predictive focusing, the E-300 showed no difference in sharpness. More important, if anything, is how quickly (or slowly) a camera focuses in the first place; many of the E-300's photos showed only half of a car in them because the camera was frustratingly slow to lock on focus and trigger the shutter. By contrast, the autofocus on the Nikon D70s was snappy, managing to capture a quickly running dog; the camera's rapid 1/8000 shutter speed didn't hurt either.
The EVolt E-300 has an internal mechanism for fighting dust: a filter that sits between the shutter and the sensor to catch dust particles. Changing lenses on an SLR exposes the camera's interior to dust, which can show up on your images. Getting dust out of a camera can be an exasperating--and costly--ordeal; see "The Dirt on Digital SLRs' Dust," below.
The Konica Minolta Maxxum 7D boasts antishake technology built into the camera body. In our informal tests, the 7D's sensor effectively compensated for restless subjects and shaky hands, producing noticeably sharper photos than we obtained after turning off antishaking. Many cameras put this feature in their lenses, which may make the lenses more expensive. Most of the kit lenses sold with low-cost SLRs add about $100 to the cost of the camera (and don't include an antishake feature); by contrast, prices for Canon's 28mm-to-135mm lens with image stabilization range from $400 to $570.
Comparing Digital Noise

In tests conducted by the PC World Test Center, the Canon EOS 20D (left) generated little additional noise at high-ISO settings compared with its images captured at lower ISOs. By contrast, the Olympus EVolt E-300 introduced significantly more noise at ISO 1600.
Shop Tech Products at Amazon