Powerful Cameras, Lower Prices
Page 2 of 5
Keep Things in Focus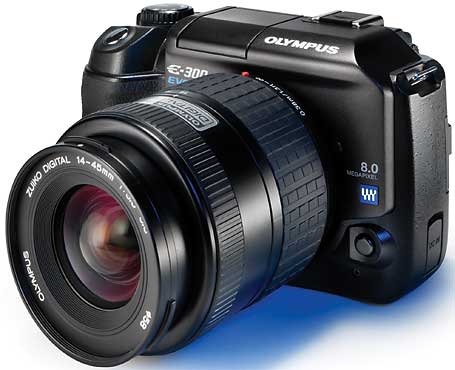 An SLR camera's autofocus tends to be sophisticated, though you may prefer manually using the focal ring on the lens in some situations, such as when you're shooting in dim light or photographing a small object in macro mode. By contrast, the fixed lenses that most advanced point-and-shoot cameras have lack a focal ring.
Another reason SLRs are superior for manual focusing is that you look through their lens rather than at an image on an LCD or electronic viewfinder. The focal ring on most of the lenses that we tested operated smoothly, though the 18mm-to-55mm EFS lens on the Canon Digital Rebel XT felt a little loose and was less responsive than most others. Also, turning the EFS lens's focal ring moves the entire front section of the barrel, which will change the effects of certain filters.
Unlike the other focal rings we tried, which move glass inside the lens mechanically, the focal ring on the Olympus EVolt E-300's lens is connected by wire to an electronic motor. This method lacks the tactile feedback the other lenses provide, but we found the mechanism helpful for fine-tuning the autofocus.
SLRs power up quickly, as well. The Nikon D70s was particularly speedy, ready to shoot in less than a second. And because SLRs have a burst mode, you can shoot continuously while you hold down the shutter button. Burst modes on SLRs are superfast; even sub-$1000 models can take as many as three shots a second. Depending on the image-quality setting you use, some cameras can shoot more than 100 frames at a stretch.
For example, if you use a high-speed CompactFlash card with the Nikon D70s, the camera is rated to take 144 frames in burst mode at the JPEG Normal-Large setting. However, with a standard CompactFlash card and the Fine setting (3008 by 2000 pixels) in our tests, the D70s fired off just 10 successive images before it stopped shooting continuously, and was then capable of capturing only about 1 frame per second. The Olympus EVolt E-300's burst mode, rated at 2.5 frames per second, was impressive, too: The camera never noticeably slowed when shooting 200 consecutive high-quality JPEGs and stopped only when it had filled a 256MB CompactFlash card.
Almost all of the SLRs we looked at excelled in battery life. Every camera but one reached the maximum of 500 shots that our battery tests specify. The only model to fall short of that mark was the Konica Minolta Maxxum 7D, which pooped out after a mere 278 shots.
The Fujifilm FinePix S2 Pro's hulking body has two battery compartments: one for two 3-volt disposable lithium batteries, and the other for four AA batteries (you can't use NiCd rechargeables). Although the S2 Pro has two media card slots, the second slot is for SmartMedia cards; but because SmartMedia cards top out at 128MB, you'll soon have to grab a replacement CompactFlash card if you want to keep shooting. An SD Card slot would have made much more sense.
Shop Tech Products at Amazon