Powerful Cameras, Lower Prices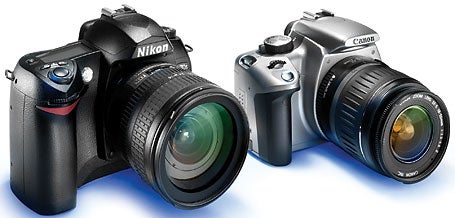 For photographers who want maximum control over their images, nothing beats a single-lens reflex camera, or SLR. Digital SLRs used to be so expensive that only professionals could afford them, but that is changing rapidly. Camera makers such as Canon, whose Digital Rebel debuted two years ago at $999 with a lens, have introduced new SLRs without replacing older models--adding to your range of choices. These low-cost cameras let consumers enjoy professional-grade features and capture great-looking images in difficult shooting environments. Most important, they don't necessitate any big trade-offs: You will get much of the functionality of high-priced SLRs.
We put seven of the latest SLRs through our newly expanded battery of tests. We looked at four low-priced SLRs and three more-expensive models. To evaluate the cameras' image quality more thoroughly, we've added tests that assess how much digital noise each product introduces into its images, and we judge images taken using manual exposure settings; previously, we used only automatic settings.
The most obvious advantage SLRs offer is the ability to swap lenses to suit a particular shooting situation. SLR lenses can achieve very small aperture sizes, down to f22, compared with a limit of f8 found on many fixed lenses. SLRs also tend to be able to shoot at a wider range of speeds: All of the ones here can shoot in increments as long as 30 seconds. The Canon EOS 20D and Nikon D70s can shoot as fast as 1/8000 second; the others can shoot as rapidly as 1/4000 second. Advanced point-and-shoot models, in contrast, usually have a range of shooting speeds from about 2 seconds to 1/3000 second.
Keep in mind that because the image sensors in most digital SLRs are smaller than a frame of 35mm film, the focal length is affected. Usually you have to multiply by 1.5 or 1.6 to get the 35mm equivalent of a lens when you place it on a digital SLR. For example, a 28mm-to-80mm lens for a film SLR will yield the equivalent of roughly 42mm to 120mm on a digital model. The exception is the Olympus EVolt E-300; for its lenses you must multiply by 2. (See the chart for the other cameras' multipliers.)
Also, SLRs tout high ISO settings, mimicking the film-speed ratings of 35mm film. An SLR's sensor is highly sensitive to light, which can be particularly helpful when you're shooting without a flash or tripod in dim light. SLRs frequently offer up to ISO 1600 (though two of the cameras we looked at, the Konica Minolta Maxxum 7D and the Pentax *ist DS, go up to ISO 3200), while advanced point-and-shoot cameras often top out at ISO 400. Their expanded range makes SLR units much more capable in situations where low light and fast movement can make capturing a high-quality image difficult.
Keep Things in Focus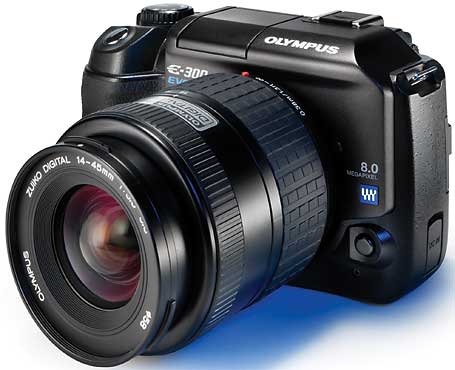 An SLR camera's autofocus tends to be sophisticated, though you may prefer manually using the focal ring on the lens in some situations, such as when you're shooting in dim light or photographing a small object in macro mode. By contrast, the fixed lenses that most advanced point-and-shoot cameras have lack a focal ring.
Another reason SLRs are superior for manual focusing is that you look through their lens rather than at an image on an LCD or electronic viewfinder. The focal ring on most of the lenses that we tested operated smoothly, though the 18mm-to-55mm EFS lens on the Canon Digital Rebel XT felt a little loose and was less responsive than most others. Also, turning the EFS lens's focal ring moves the entire front section of the barrel, which will change the effects of certain filters.
Unlike the other focal rings we tried, which move glass inside the lens mechanically, the focal ring on the Olympus EVolt E-300's lens is connected by wire to an electronic motor. This method lacks the tactile feedback the other lenses provide, but we found the mechanism helpful for fine-tuning the autofocus.
SLRs power up quickly, as well. The Nikon D70s was particularly speedy, ready to shoot in less than a second. And because SLRs have a burst mode, you can shoot continuously while you hold down the shutter button. Burst modes on SLRs are superfast; even sub-$1000 models can take as many as three shots a second. Depending on the image-quality setting you use, some cameras can shoot more than 100 frames at a stretch.
For example, if you use a high-speed CompactFlash card with the Nikon D70s, the camera is rated to take 144 frames in burst mode at the JPEG Normal-Large setting. However, with a standard CompactFlash card and the Fine setting (3008 by 2000 pixels) in our tests, the D70s fired off just 10 successive images before it stopped shooting continuously, and was then capable of capturing only about 1 frame per second. The Olympus EVolt E-300's burst mode, rated at 2.5 frames per second, was impressive, too: The camera never noticeably slowed when shooting 200 consecutive high-quality JPEGs and stopped only when it had filled a 256MB CompactFlash card.
Almost all of the SLRs we looked at excelled in battery life. Every camera but one reached the maximum of 500 shots that our battery tests specify. The only model to fall short of that mark was the Konica Minolta Maxxum 7D, which pooped out after a mere 278 shots.
The Fujifilm FinePix S2 Pro's hulking body has two battery compartments: one for two 3-volt disposable lithium batteries, and the other for four AA batteries (you can't use NiCd rechargeables). Although the S2 Pro has two media card slots, the second slot is for SmartMedia cards; but because SmartMedia cards top out at 128MB, you'll soon have to grab a replacement CompactFlash card if you want to keep shooting. An SD Card slot would have made much more sense.
Preventing Digital Noise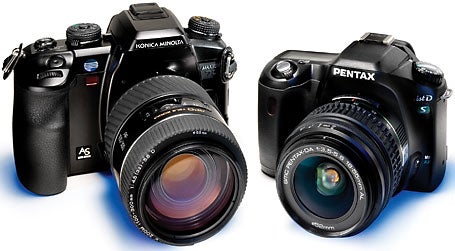 Digital cameras offer a distinct benefit in their ability to change their ISO without your having to swap film (or carry multiple cameras loaded with a different film). But like the grainy shots you get when using high-ISO 35mm film, digital images shot at higher ISO settings tend to have more digital noise.
A new test developed by the PC World Test Center enables our jury to evaluate how well cameras minimize noise at a range of ISOs. The Konica Minolta Maxxum 7D and the Canon EOS 20D earned the highest scores on this test, introducing very little noise even at ISO 1600. The Konica Minolta Maxxum 7D and the Pentax *ist DS are the only two cameras here that can shoot at ISO 3200, though at that setting both cameras produced noisy images. The Olympus EVolt E-300, which shoots at up to ISO 1600, received the lowest score in our noise tests. "Comparing Digital Noise," below, shows examples.
You don't have to shoot at a high ISO setting to see distortions, however. Some of the photographs we took using each camera's lowest available ISO setting contained noticeable artifacts. The subject--a chart containing moiré patterns, fine parallel lines, and text--proved challenging for some cameras. After cropping out most of the image, we enlarged the remainder to study the fine details.
The Nikon D70s introduced the most glaring color interference to both the parallel lines and the text. The Pentax *ist DS produced the haziest image of these fine details, while the Canon 20D rendered the sharpest one. Among the lower-cost SLRs, the Canon Digital Rebel XT introduced the fewest color artifacts and the least distortion. Though you may not notice such artifacts in an uncropped image printed at 8 by 10 inches, being able to crop closely and make a large print without distracting distortions gives you a lot of flexibility. By comparison, the advanced point-and-shoots that we put through this test produced a lot more noise at lower ISOs than any of the SLRs we tested.
We've found that SLRs frequently underexpose their shots when using automatic settings, perhaps to preserve detail in highlights. But SLR users are unlikely simply to snap away with automatic settings. That's why we now include a shot taken with manual adjustments made to exposure settings and white balance. On this test, Fujifilm's FinePix S2 Pro earned the highest score, although its score for a photo taken with fully automatic settings was only in the middle of the pack. (For all tests, we shoot our photos at the camera's highest-quality JPEG setting.)
Unique Features
In an effort to distinguish themselves, some SLRs tout potentially innovative features. The Olympus EVolt E-300 uses predictive focusing, which attempts to forecast where your moving subject will be when you trip the shutter. In images taken of fast-moving cars both with and without predictive focusing, the E-300 showed no difference in sharpness. More important, if anything, is how quickly (or slowly) a camera focuses in the first place; many of the E-300's photos showed only half of a car in them because the camera was frustratingly slow to lock on focus and trigger the shutter. By contrast, the autofocus on the Nikon D70s was snappy, managing to capture a quickly running dog; the camera's rapid 1/8000 shutter speed didn't hurt either.
The EVolt E-300 has an internal mechanism for fighting dust: a filter that sits between the shutter and the sensor to catch dust particles. Changing lenses on an SLR exposes the camera's interior to dust, which can show up on your images. Getting dust out of a camera can be an exasperating--and costly--ordeal; see "The Dirt on Digital SLRs' Dust," below.
The Konica Minolta Maxxum 7D boasts antishake technology built into the camera body. In our informal tests, the 7D's sensor effectively compensated for restless subjects and shaky hands, producing noticeably sharper photos than we obtained after turning off antishaking. Many cameras put this feature in their lenses, which may make the lenses more expensive. Most of the kit lenses sold with low-cost SLRs add about $100 to the cost of the camera (and don't include an antishake feature); by contrast, prices for Canon's 28mm-to-135mm lens with image stabilization range from $400 to $570.
Comparing Digital Noise

In tests conducted by the PC World Test Center, the Canon EOS 20D (left) generated little additional noise at high-ISO settings compared with its images captured at lower ISOs. By contrast, the Olympus EVolt E-300 introduced significantly more noise at ISO 1600.
Pros and Cons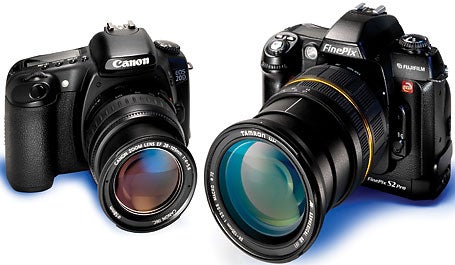 Despite the overall superiority of SLRs, not every picture-taking situation calls for one; you're unlikely to use an SLR's extensive capabilities for everyday snapshots. SLRs also tend to be larger and weightier than advanced point-and-shoot cameras. And if the ability to record video with your camera appeals to you, an SLR won't make you happy--none of the digital SLR models we tested record video.
The price of digital SLRs is no longer prohibitive, although the models on our chart start at a still-significant $800 without a lens. The latest contender to come out swinging is the $900 Nikon D50, but it arrived too late for us to include in this roundup; click here for a detailed review.
If you want to go digital and you already own a bunch of lenses for a 35mm SLR, consider buying a body from the same maker--unless it's Olympus, whose digital SLRs require specific lenses. Another option if you own Nikon lenses is the Fujifilm FinePix S2 Pro, which comes equipped with a Nikon lens mount.
Product Reviews
For in-depth reviews of the cameras discussed in this article, click on the following links:
Eric Butterfield
The Dirt on Digital SLRs' Dust
The image sensor in a digital SLR carries an electrostatic charge that attracts dust, which can ruin photos, especially if you change lenses. To minimize dust, switch lenses quickly while the camera is turned off and facing downward.
If you try to clean the sensor yourself, avoid canned aira??it can damage the sensor. Use only a handheld air blower, such as Giottoa??s Rocket Air Blower (find.pcworld.com/48754). Otherwise, your options are limited. Pro shops and camera makers charge anywhere from $30 to $100 per cleaning. For more tips, and information on camera warranties, click here.
Melissa J. Perenson