Powerful Cameras, Lower Prices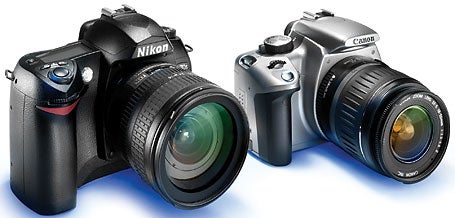 For photographers who want maximum control over their images, nothing beats a single-lens reflex camera, or SLR. Digital SLRs used to be so expensive that only professionals could afford them, but that is changing rapidly. Camera makers such as Canon, whose Digital Rebel debuted two years ago at $999 with a lens, have introduced new SLRs without replacing older models--adding to your range of choices. These low-cost cameras let consumers enjoy professional-grade features and capture great-looking images in difficult shooting environments. Most important, they don't necessitate any big trade-offs: You will get much of the functionality of high-priced SLRs.
We put seven of the latest SLRs through our newly expanded battery of tests. We looked at four low-priced SLRs and three more-expensive models. To evaluate the cameras' image quality more thoroughly, we've added tests that assess how much digital noise each product introduces into its images, and we judge images taken using manual exposure settings; previously, we used only automatic settings.
The most obvious advantage SLRs offer is the ability to swap lenses to suit a particular shooting situation. SLR lenses can achieve very small aperture sizes, down to f22, compared with a limit of f8 found on many fixed lenses. SLRs also tend to be able to shoot at a wider range of speeds: All of the ones here can shoot in increments as long as 30 seconds. The Canon EOS 20D and Nikon D70s can shoot as fast as 1/8000 second; the others can shoot as rapidly as 1/4000 second. Advanced point-and-shoot models, in contrast, usually have a range of shooting speeds from about 2 seconds to 1/3000 second.
Keep in mind that because the image sensors in most digital SLRs are smaller than a frame of 35mm film, the focal length is affected. Usually you have to multiply by 1.5 or 1.6 to get the 35mm equivalent of a lens when you place it on a digital SLR. For example, a 28mm-to-80mm lens for a film SLR will yield the equivalent of roughly 42mm to 120mm on a digital model. The exception is the Olympus EVolt E-300; for its lenses you must multiply by 2. (See the chart for the other cameras' multipliers.)
Also, SLRs tout high ISO settings, mimicking the film-speed ratings of 35mm film. An SLR's sensor is highly sensitive to light, which can be particularly helpful when you're shooting without a flash or tripod in dim light. SLRs frequently offer up to ISO 1600 (though two of the cameras we looked at, the Konica Minolta Maxxum 7D and the Pentax *ist DS, go up to ISO 3200), while advanced point-and-shoot cameras often top out at ISO 400. Their expanded range makes SLR units much more capable in situations where low light and fast movement can make capturing a high-quality image difficult.
Shop Tech Products at Amazon