capsule review
IRiver H320
At a Glance
iRiver H320 20GB MP3 Player (20GB Internal Hard Drive)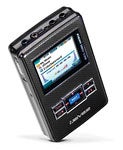 At $275, the IRiver H320 sits near the high end of the price continuum for 20GB players (the 20GB Apple IPod currently costs $280). Even diehard IPod fans will regard the H320's large, vivid display with jealousy.
Multifunction buttons simplify switching between playback modes, changing equalizer settings, and getting to the most useful controls. Transferring music from your computer to the player is easy, and navigating through your music library on the device is straightforward, though somewhat slow. The H320's FM radio reception was good, and its voice recording worked without a hitch.
The bulky IRiver might have provided louder volume--on an airplane, it wasn't quite loud enough for my decibel-damaged ears. And because the color screen saps battery life (IRiver claims a hefty 16 hours for its player anyway), you must adjust the display's backlight so that it turns off fairly quickly. I set it at 10 seconds; unfortunately, when the screen darkens, you can't read it at all. Pressing any button illuminates it; but if you want to skip forward a song, you have to press the button twice--a minor annoyance.
Reasonable price, great audio, dazzling color display, FM radio, and photo viewing make this device a strong contender among 20GB players.
Sam Jemielity
This story, "IRiver H320" was originally published by PCWorld.
At a Glance
iRiver H320 20GB MP3 Player (20GB Internal Hard Drive)
Shop Tech Products at Amazon