At a Glance
DLink DSM-320 High Speed 2.4GHz

WiebeTech TrayDock

Philips Streamium SL300i WiFi-Enabled Multimedia Receiver for Home and Internet Entertainment

Pinnacle Systems ShowCenter (with wireless G)

ViewSonic 802.11G Wireless Kit Including Wireless Media Gateway (120GB HD) & Wireless Digital Media Adapter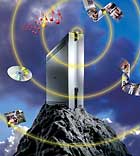 There's a world of digital entertainment at my fingertips, yet it's all trapped in ugly PC boxes with 17-inch displays and tin-can speakers. At the same time, I have thousands of dollars invested in high-end home entertainment equipment sitting in my living room, and none of it is worth a dime when I want to watch or listen to anything in my digital media library.
But finally, my PC and my home entertainment gear are getting a chance to make a love connection. With the latest digital media receivers, you can access your PC-based music, pictures, and video on any audio or video device in your home. You just need a wireless home network. (You can use ethernet, but all that wiring tends to get messy.) Though it's possible to stream music over an 802.11b wireless connection, using the faster 802.11g standard is essential if you plan to watch video.
All of the devices I tested for this article can handle audio, video, and pictures, but that's where the resemblance ends. The first products I looked at were basic digital media receivers for simply sending multimedia files from a computer over to your TV or your stereo system. In that category I tested products from D-Link, Philips, and Pinnacle. I then ventured into the world of Media Center PCs and assessed an HP Media Extender. And finally, I checked out a fancy media server manufactured by ViewSonic that can deliver multimedia content without any help from a computer.
At a Glance
DLink DSM-320 High Speed 2.4GHz

WiebeTech TrayDock

Philips Streamium SL300i WiFi-Enabled Multimedia Receiver for Home and Internet Entertainment

Pinnacle Systems ShowCenter (with wireless G)

ViewSonic 802.11G Wireless Kit Including Wireless Media Gateway (120GB HD) & Wireless Digital Media Adapter
Shop Tech Products at Amazon