Altec Lansing Offers Portable MP3 Sound
LAS VEGAS -- Altec Lansing Technologies is previewing its latest InMotion iM portable audio speaker system for MP3 players, showing a speaker set that is small and lightweight enough to store in a briefcase, according to the company.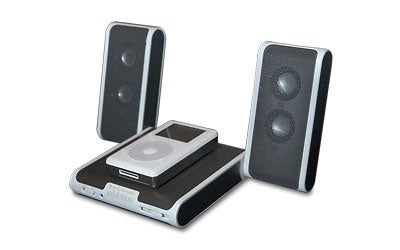 The inMotion iM4 Portable Speaker System is being displayed at the Consumer Electronics Show here. The system has a stand-up rubber platform measuring 10.25 inches by 5.3 inches by 1 inch, with speakers on either side. When the system is in use, the middle of the platform can fold down to hold a portable audio player while the speakers remain standing. The iM4 can deliver 18 hours of audio playback on its four AA batteries. It weighs 1.75 pounds without the batteries.
The speaker system uses a 4-watt digital amplifier and has technology to produce deep bass without a subwoofer, the company says in a statement. A retractable cable connects the system to the portable audio player, and a second audio source, such as a PC, can be connected to the speaker system with an auxiliary input jack.
The portable speaker system supports audio players including Apple Computer's popular IPod, and players from Archos, IRiver, Rio, and Samsung Electronics. It will be available in different shades to match the colors of different MP3 players, according to the company.
The iM4 will ship in February for $130 and will come with an AC adapter, an international plug set, a power supply, and a carrying case, the company says.
Additional Products Announced
Altec Lansing also announced three new additions to its VS series of stereo speaker systems at the show.
The low-end $30 VS2220 Stereo Speaker System is a pair of three-inch-high speakers that are available only in black. The midrange $50 VS2221 three-piece system includes one subwoofer and two speakers that can be mounted on a wall. The system has Altec Lansing's Xtreme Dynamic Bass technology for enhanced bass, as well as Sound Field Expander technology for enhanced sound, according to the company.
Both systems come with a headphone jack and an internal power supply and will become available from Altec Lansing's Web site in February.
The $130 VS4221 is a four-piece package that includes a wireless remote to control the speaker set. Pivots at the bottom of the rectangular speakers allow their angle to be changed for optimum listening, according to the company. The subwoofer is 6.5 inches high. The set will become available worldwide in May.
For more CES coverage, see PC World's CES news page or our CES staff blog.