capsule review
ADS Tech Instant TV +FM PCI
At a Glance
ADS Technologies Instant TV +FM PCI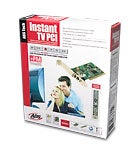 The most user-friendly feature of the $89 ADS Tech Instant TV +FM PCI is probably its breakout box, which composite and S-Video inputs. Thanks to them, you don't have to access the back of your PC every time you want to connect an analog camcorder or other device.
The Instant TV software, on the other hand, is quite clunky. Designed to look like a remote control, the control panel takes up a large part of a 1024-by-768-resolution screen. And unlike many other TV tuner control panels, this one won't let you hide it except by dragging it off screen--an inelegant solution.
The tuner's best features aren't obvious, For instance, you can control the size of the customizable preview grid (which shows what's currently playing on several channels), and you can determine which channels will be displayed. Recording options include seven quality levels, recording time limits, and a recording volume setting. Unfortunately, when we recorded time-shifted video at high-quality encoding settings, the on-screen video image degraded markedly. Afterward, however, the recorded MPEG-2 files played smoothly.
Because ADS Tech's TV tuner doesn't integrate with an electronic program guide such as TitanTV, you can't use an EPG to help schedule a recording. The tuner lacks video editing and DVD burning software, too. As its name suggests, the Instant TV +FM PCI card includes an FM radio tuner: An RCA connection accommodates the included antenna, but there's no coaxial input.
The package's documentation covers little more than the setup procedure, with a cursory nod also to the external remote control, which contains some buttons whose purpose remains unclear.
This low-priced TV tuner card has some handy features; but overall it's awkward to use, and the failure to include an integrated EPG is a big oversight.
Emru Townsend
This story, "ADS Tech Instant TV +FM PCI" was originally published by PCWorld.
At a Glance
ADS Technologies Instant TV +FM PCI
Shop Tech Products at Amazon