In the Pipeline. . .
Sony Plays IPod Catch Up
Finally, Sony has introduced two hard-drive-based music players. The NW-HD1 Network Walkman Digital Music Player ($400) features a 20GB hard drive; Sony claims up to 30 hours of battery life. The Vaio Pocket VGF-AP1L ($500) has a 40GB drive, a color display, and a claimed 20 hours of battery life. It's available about now. Note: They play only the proprietary ATRAC3 format; you must use the included software to convert from MP3, WMA, and other formats.
HP Unleashes IPaq Phone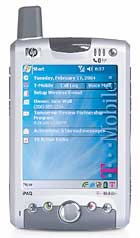 Hewlett-Packard's new IPaq handhelds include the Pocket PC H6315 phone ($500 with T-Mobile activation). The H6315 has GSM/GPRS cellular, Wi-Fi, and Bluetooth wireless capabilities, in addition to a built-in camera and a removable keyboard.
Mobile Entertainment
Toshiba's Qosmio E15-S (about $2300, well-equipped) is an 8-pound portable television/DVD player--and a Windows laptop to boot. Watch TV on the integrated tuner, or export DVD playback to an external set via the notebook's component outputs, all without booting the Media Center OS; 15.4-inch and 17-inch models are due in October.
Get Unlost With Cheap GPS
Microsoft's Streets & Trips 2005 With GPS Locator ($129), available about now, adds a GPS hardware module to the mapping software. The module connects to a laptop via USB or to a Pocket PC or smart phone via an optional sled.
For comprehensive coverage of the Android ecosystem, visit Greenbot.com.