All Gain, No Pain
Install and Train a Firewall
Time to complete: 10 minutes to download and install, 10 minutes to train
Required product: Zone Labs ZoneAlarm 5, free, www.zonelabs.com
ZoneAlarm is about the easiest-to-use firewall we can think of, but you still have to do some fine-tuning to minimize confusing alerts. To save time, you can use ZoneAlarm's Control Center to manage programs' Internet access.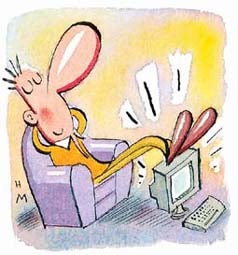 Download and launch the ZoneAlarm installer. Accept the default settings when ZoneAlarm asks you to configure Web surfing access. (If you think your computer is infected with a worm, virus, or browser hijacker, choose No to manually control which programs have Internet access until you've cleaned up the problem.) Click Next to continue, and reboot when prompted.
Read through the brief ZoneAlarm tutorial that runs automatically and explains how to respond to ZoneAlarm alerts. ZoneAlarm will begin to display dialog boxes asking you to grant or block access to programs running on your PC that try to use the network or Internet connection.
When a dialog box pops up, look at the name of the program attempting to access the network. If you recognize it as legitimate, check the Remember this setting option, and then click Allow. If you're not sure about the program, click More info to view a description on the Zone Labs Web site. If you remain unsure whether the program is legitimate, click Deny.

To review and change the permissions you've given programs, double-click the ZoneAlarm icon in your system tray to bring up ZoneAlarm's Control Center. In the menu bar on the left side of the screen, click Program Control. Next, click the Programs tab at the top right of the main window. In this view you can specify exactly what each program is allowed to do--on the Internet and on trusted networks such as your office or home network. Choosing 'Allow' for often-used programs will minimize the number of pop-up alerts you see.
Scott Spanbauer
Create a Web Site in Minutes
Time to complete: 10 minutes for installation, 15 minutes to create and upload content
Required products: Blogger, free, www.blogger.com; Picasa Hello, free, www.hello.com
Everyone dreams of having their own Web site, but learning HTML and tweaking code can be a big time sink. The words and pictures you want to share with the world are what really matter, and a Weblog (or blog) gives you a basic Web presence almost instantly. Even better, the services we've chosen to help you do it are free.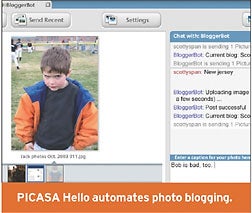 Browse to the Blogger Web site, click the Create Your Blog Now link, and follow the prompts to establish an account (be sure to jot down your user name and password), a blog title, and a blog address.
Select a blog template that suits your design sensibilities, and click the arrow at the bottom of the screen.
Click the Start Posting link, and then enter a title and message in the Posting sheet. When you're satisfied with your post, click the Publish Post link. To see how your published blog looks, click the View Blog tab.
The Posting, Settings, and Template tabs let you control just about every aspect of your blog, including deleting entries (or entire blogs) and allowing others to add posts and comments. If you want to edit or delete an existing post, click Posting, then Edit Posts. To choose a different design template for your blog, select the Template tab, and then click Pick new.
Download and install Picasa's free Hello instant messaging utility. Again, make a note of your Hello user name and password. Launch Hello, and then log in.
Click Send Pictures, and then browse to and select the photo that you want to post to your blog. When you're prompted, choose BloggerBot as the photo recipient, and click Send. Next, enter a photo caption and click Publish. That's it.
One note: The first time you send a photo using Hello, Blogger will also prompt you to log in with your Blogger user name and password.
Scott Spanbauer
Grace Aquino is senior associate editor, Rebecca Freed is senior editor, and Scott Spanbauer and Lincoln Spector are contributing editors for PC World.