Batter Up: The best ways to watch baseball on your digital devices
The 2013 Major League Baseball season is here, and tech-savvy fans have more ways than ever to stream high-quality video and audio at their command, whether it's pulling out your iPad on the train home, checking your Android phone at the gym, or using your Xbox 360 for more than just late-night gaming sessions.
MLB continues its successful multi-tiered subscription model, albeit with a slight uptick in prices. The pricing structure is simple to grok. The mobile app version, called At Bat or At Bat 13 (depending on the platform), is $20 across the board (there's also a $3 monthly option on iOS); one purchase works across all like-minded platforms. So $20 on your iPhone also gets you the iPad version. Android users can pay $20 for access on their compatible Android phone, tablet, and Kindle Fire. (There are also BlackBerry and Windows Phone versions of the At Bat app.) Every app purchase comes with real-time scoring updates and unlimited home/away radio streams throughout the season. This year, purchase of MLB mobile apps also includes audio streaming on Macs and PCs.
For those who also want unlimited video streaming, there are two subscription tiers. For $110 (or $20/month), you get the basic home team video feed on your Mac or PC for each game that isn't blacked out. (Basically, you won't be able to watch local in-market games, since they're theoretically being offered on a TV channel in your area. Red Sox fans in Boston, for example, wouldn't be able to watch the Old Towne team on their computer.) That's all you get.
For just $20 more, the $130 Premium package gets you a slew of extra functionality: home/away video feeds, access to multiple connected devices like Apple TV and Xbox 360, and free access to the At Bat app. Aside from this being the better value, the app access is a much-welcome inclusion. Just log in to your browser, mobile, or connected device with your MLB.com account info and you're good to go. You don't have to spend extra dough for the mobile version.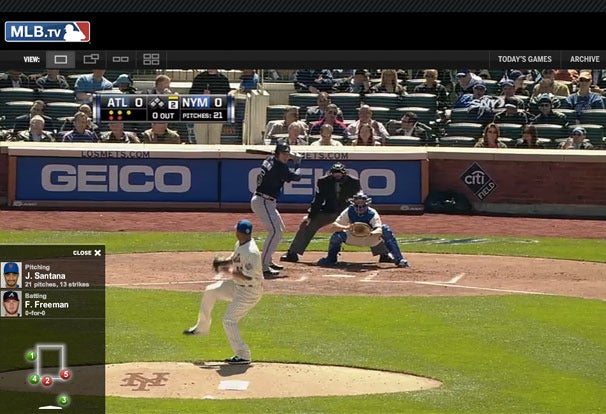 With MLB.tv you get live streaming of every game that's not blacked out (in other words, you can't watch your local team's TV broadcasts—MLB.tv is a product for out-of-market games only), whereas the $15 mobile apps only offer one pre-selected game per day. Plus, the more devices you have, the more cost-effective the investment becomes. A single $130 MLB.TV Premium subscription would enable video streaming on your PC, iPhone, iPad, Apple TV, Mac, Android phone, Android tablet, Kindle Fire, PlayStation 3, Roku, and Xbox 360.
Here's a closer, hands-on look at some of the available platforms.
iOS. MLB released a revamped version of its iPad and iPhone apps in February, following on from the major aesthetic improvements that were introduced in 2012. New features include support for closed-captioning and revamped team-oriented pages.
Video streams buffer up quick and play without extended stutters. Whether you run it on the iPhone or iPad, MLB.com At Bat for iOS is a joy to use.
Android. Like its iOS brethren, a one-time app purchase gets you audio streaming on any compatible Android phone or tablet. Once set up, the Android version impresses with its speed and response time. Video loaded noticeably faster on a Samsung Galaxy Nexus as opposed to an iPhone 4 or iPad 2, perhaps a couple of seconds saved each time. Switching video feeds on an Android phone is easier than on an iPhone, since a discreet rectangular box pops up from below bottom and doesn't cover the still-streaming game. However, you don't get the iPhone's helpful score ticker along the top of the screen, nor the option for wireless AirPlay functionality. Still, it's an excellent option for dedicated Android users that compares favorably with the feature-friendly iOS port.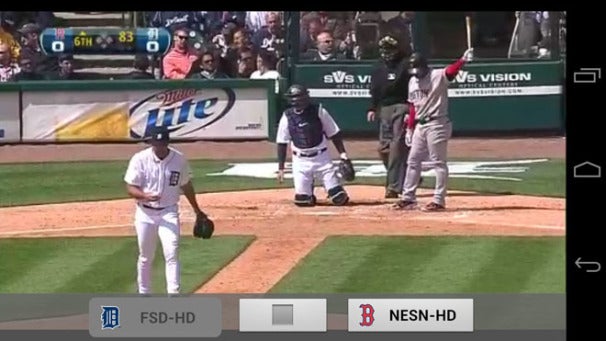 Mac/PC. For the most features, watching MLB.TV through your Mac or PC remains the best option. There's a clickable linescore that allows you to easily go to any hitter's at-bat from any point in the game. You can also input the names of players on your fantasy teams so that when they do something noteworthy—even in a game you're not watching—you'll get an alert bubble that will let you pull up a video highlight. The audio overlay option allows you to substitute radio feeds in lieu of TV announcers. (You can even choose the "natural" ambient sounds from inside the stadium, if you like.) And the split-screen, picture-in-picture, and "quad" views, which allow you to watch two or four games simultaneously, are also almost exclusively available on Mac/PC.
The biggest hangup with using your computer is that's all Flash-based, so constant streaming is going to mean allocating a chunk of your system memory. Video playback typically isn't as smooth as on portable devices or consoles. Frequent momentary stutters are the norm, even when viewing through the pop-up window. (If you can sacrifice the screen real estate, watching games in fullscreen is a much nicer experience.)
In the lower-left corner of the pop-up, you get smooth, unobtrusive integration of PITCHf/x data, video highlights that pop up via picture-in-picture, a play-by-play summary, and even a Twitter stream that allows you to post updates. However, your tweet will include mandatory hashtags identifying each team you're watching, so your character count will be more inhibited than usual.
The mini-video highlights are the slickest feature, though. Click one and the live game audio mutes as a mini-window pops out to play the highlight. If you like, you can even swap their respective placements, so the live action moves to the smaller window.
Even if you just opt for the $20 Gameday Audio plan, the streaming experience is very reliable, as you still get home and away feeds while the free MLB Gameday interface provides real-time updates and stats.
Apple TV. Apple TV's MLB interface is the same as last year's. Just sign up for MLB.TV Premium and then log in with your MLB.com account info. From there, the clean Apple TV menu offers access to the day's full slate of games, updated standings, and video recaps of completed games. It even offers up who the current pitcher and hitter is in each game before you click to watch. The Apple TV costs $99, and there are cheaper streaming options out there with MLB functionality, like the Roku line. The Apple TV remote also remains a clunky and frustrating way to navigate the menus as well as toggle through video. Still, the menu interface is laid out smartly, and the options are fairly extensive for a sub-$100 video streamer. You can also pull up the new clickable linescore feature by pressing down on the remote D-pad during a game, and Apple TV's iTunes Store integration offers easy access to purchase bundled video packages of historic MLB games straight from the MLB menu.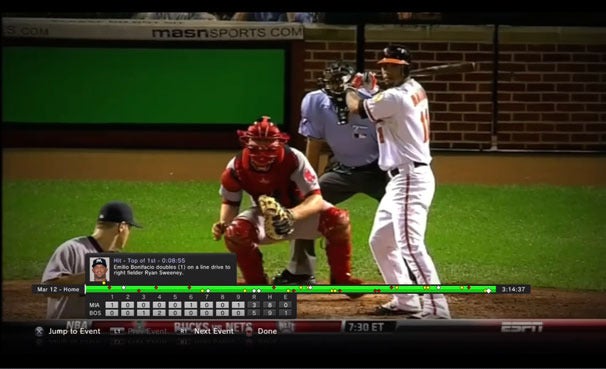 PlayStation 3. Of all the platforms I tested, the Sony's PlayStation3 delivered the cleanest video feed—with the possible exception of the Mac/PC version, it's the best platform on which to watch baseball. The initial setup comes via an activation code that your console provides. Input that into a special URL, and you're ready to go. The main navigation page is a little busy and a bit cumbersome for those unfamiliar with the PS3 controller, but the HD video is stunning and the clickable linescore can be pulled up and navigated more easily with the PS3 controller than, say, the Apple TV remote. The audio overlay option, which lets you pipe in the radio feed over the TV broadcast, is a welcome option that's only available here and on PC/Mac.
Best of the rest
MLB.TV on Xbox 360 debuted last season. The Xbox 360 features split-screen video (an option only otherwise available on Mac/PC), so you can watch two games at once. But overall it's not as rich an experience as the PS3 version: there's also no clickable linescore or audio overlay option and video streaming requires an Xbox Live Gold account, which starts at $5 a month. Video streaming on the PS3 does not require any additional cost, beyond your MLB.TV Premium subscription.
Roku also enables MLB.TV Premium streaming and offers a slightly cheaper hardware option compared to, say, Apple TV.
There's also an At Bat 13 app for BlackBerry, as well as a Windows Phone version, but we didn't get a chance to test either of them. Other supported devices include WD TV, Boxee, and TVs and Blu-Ray players from Panasonic, Samsung, and LG.
[Erik Malinowski has worked for Deadspin, Wired, and now writes for BuzzFeed Sports. He is a long-suffering New York Mets fan.]
This article was updated on March 29, 2013, to reflect updates for the 2013 season.
Products mentioned in this article
(2 items)