Small Black Box Gives Big Sound
At a Glance
Zvox Audio 315 Sound Console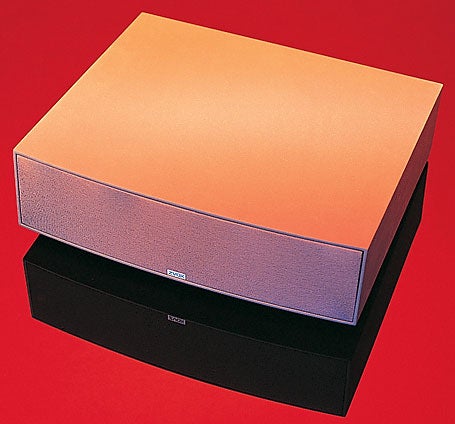 The little Zvox 315 Sound Console is deceptively simple for a device that yields such beautifully complex sound. It packs three magnetically shielded speakers and a subwoofer into a single box that's easy to set up and install and greatly improves the audio from your television or PC.
Using either the supplied RCA cable or the mini-plug connector cable, you insert one end into the Zvox and the other into the audio outputs of the TV, PC, MP3 player, or whatever device you want to hear, and then you connect the AC cord. Presto: Setup is complete.
A technology that Zvox calls Phase Cue creates the illusion of surround sound without the need for widely separated speakers and the yards of hard-to-hide cables usually required to connect them to an audio source.
When I tested a shipping Zvox unit in my home, alternating between a television, a computer, a DVD player, and a portable CD player, I was wowed by the room-filling sound that the plain black box produced, with a hearty bass that seemed as if it were coming from a separate subwoofer. The Zvox certainly made my television sound better than it ever has. In addition, when I set the box up with my computer, it performed double duty as a sturdy monitor stand.
There is one more thing that sounds great about the Zvox: its $199 price. Considering its sound quality, versatility, and 60-second setup, the product is a steal.
Zvox 315 Sound Console
Well-priced three-in-one speaker box requires little setup and produces room-filling sound.
List: $199
Current Price (if available)
This story, "Small Black Box Gives Big Sound" was originally published by PCWorld.
At a Glance
Zvox Audio 315 Sound Console
Shop Tech Products at Amazon