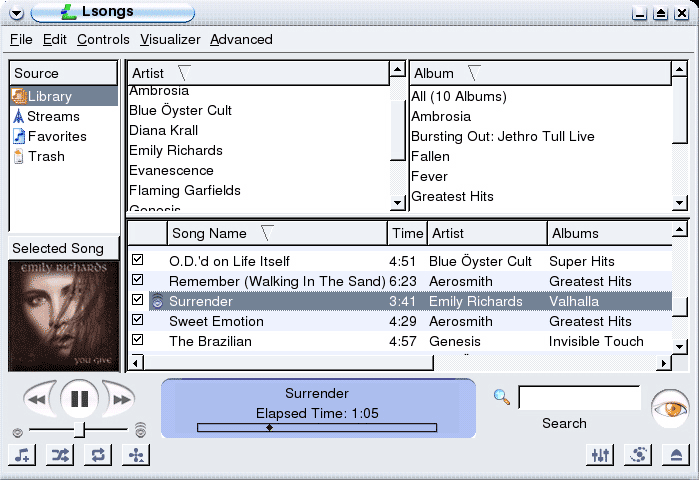 Digital audio players running Linux have typically left configuration and support to the geeky masses. But now, with the latest version of its Linspire operating system and Lsongs software, Lindows has begun supporting Dell's Digital Jukebox player.
Lsongs combines the tasks of streaming radio and handling the ripping, playing, and management of digital tunes in a single application--typically such tasks are performed by a combination of three or four Linux applications. Lsongs is available for $20 from Lindows' own Click-and-Run warehouse.
Lsongs Features
The program works seamlessly with the latest version of the operating system, Linspire 4.5, and with Dell's DJ, Lindows representatives say. No user configuration is required, nor are new drivers: Just plug the player into your PC's USB port, and the software immediately recognizes it.
As songs play on your desktop, Lsongs shows off album titles, artists, song titles, and CD art. The application supports the Ogg Vorbis, MP3, and .wav formats, as well as the Windows Media, QuickTime, and Real formats. Through the multipane interface, you can create playlists and sync your music automatically or manually by dragging and dropping files to your Dell DJ.
"This is basically an interface engineering the two together," says Ellie Sanchez, Lindows spokesperson. "Dell collaborated with Lindows on the effort." At this point, Dell's DJ is the only player engineered to work with Lsongs; Sanchez couldn't mention others in the works, but says the company is always looking for partnership opportunities.
Lindows is also relatively tight-lipped on the matter of future offerings and business deals, as the company is currently in its pre-IPO "quiet period."
Working Around Apple
Before working with Dell to get the DJ running with Linspire and Lsongs, Lindows approached Apple about support for its IPod. But according to Michael Robertson, Lindows CEO, Apple refused, stating it wants to keep its system closed to outside development. Apple declines to comment.
The fact that Lsongs software does not support digital rights management but Apple's ITunes software does may be one reason Apple declined to work on the Linux project. Currently, Apple's ITunes Music Store supports only Windows or Apple systems, locking Linux users out.
However, Swedish hacker Jon Johansen broke Apple's ITunes DRM scheme to allow people to play songs they purchased from the ITunes store on their Linux systems.
This story, "Dell's Portable Player Likes Linux" was originally published by PCWorld.