Poky Bluetooth Camera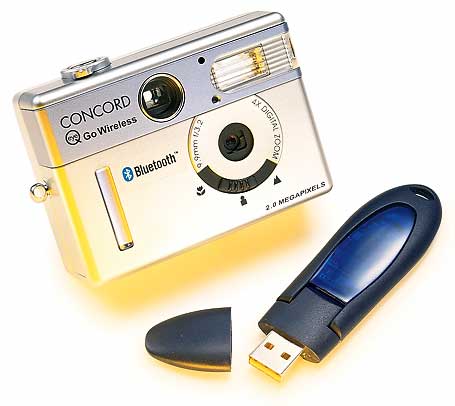 Everything else has gone wireless; why not digital cameras? Concord Camera's Concord Eye-Q Go Wireless is the first digital camera I've seen that uses Bluetooth technology to transfer your pictures to a computer, a PDA, or even a cell phone--with no wires. Too bad the camera behind the Bluetooth is abysmal.
The $149 Eye-Q Go comes with a small Bluetooth dongle that plugs into the back of your computer. But the camera transmits only one picture at a time. Transferring 7MB of images--the contents of the camera's internal memory--took 15 minutes. Transferring the same pictures using an SD (Secure Digital) card in the camera's SD slot (no card is bundled) took 8 seconds.
The Eye-Q Go employs a 2-megapixel CMOS sensor. Every snapshot I took was very dark, and the flash on my shipping unit didn't always go off when it should have. When I forced it to fire, it did so very slowly.
The camera body is made of cheap plastic, with chintzy buttons; and a switch on the front adjusts a crude aperture in front of the lens.
Even if the Bluetooth were speedier, I'd still call the Eye-Q Go Wireless a drugstore camera I wouldn't pay $50 to own. You can obtain a far better 2-megapixel digital camera, such as Canon's PowerShot A60 (with cable), for nearly the same price.
Concord Eye-Q Go Wireless
Concord Camera
Bluetooth is just a gimmick on
this poor-performing camera.
Price when reviewed: $149
Current prices (if available)