Buying Guide: Find the best speakers
The built-in speaker(s) on your computer, smartphone, tablet, or iPod don't do your audio justice, especially if you want to enjoy full, rich sound or share your music with people more than a few feet away. So along with good headphones (see our headphones buying guide), a new set of speakers is one of the most rewarding audio upgrades you can give your gear.
But if you've recently visited any store—local or online—that sells consumer electronics, you've likely been confronted by rows and rows (or screens and screens) of computer speakers, speaker docks, and the like, in many different sizes and at many different prices. Which do you choose? To help you find the right set—for yourself or your favorite gift recipient—here's the latest edition of our annual speakers buying guide, which includes both general shopping advice and specific recommendations.
What to look for when shopping
As you're browsing the aisles or webpages of your favorite stores, here are some tips to keep in mind.
Specs and sound quality
Put simply, you should ignore manufacturers' specifications, especially frequency-response numbers. No standardized testing methodology exists for speakers, so many vendors exaggerate specs—often laughably so—making them essentially worthless. With very few exceptions, you can't rely on these numbers to tell you anything about a system's audio quality. Instead, use your own ears: Try to audition speakers locally before you buy. While a store isn't an ideal environment for testing, it's better than nothing, and it can let you separate the good from the obviously bad.
When testing speakers, bring a variety of your favorite music and take your time. A quality system provides good balance between the treble (upper), midrange, and bass (lower) frequencies, producing full, rich sound while preserving detail. Be especially wary of systems where the treble detail or bass sounds especially prominent—some speakers exaggerate one or both these to stand out in a crowded store display. This is especially common with bass: Speakers that use small drivers—and this includes subwoofers with small-for-subwoofer drivers—simply can't reproduce the lowest notes, so vendors often tweak speakers to emphasize upper-bass frequencies. This approach adds some punch, but it can also make the speakers sound boomy or thumpy—a trait that becomes fatiguing over time. If deep, controlled bass is important to you, you'll need speakers with relatively large woofers or a good-sized subwoofer. Otherwise, consider speakers that forgo the lowest frequencies altogether in favor of accurate sound across the rest of the audio spectrum.
If you can't audition a system in person, read reviews from sources you trust.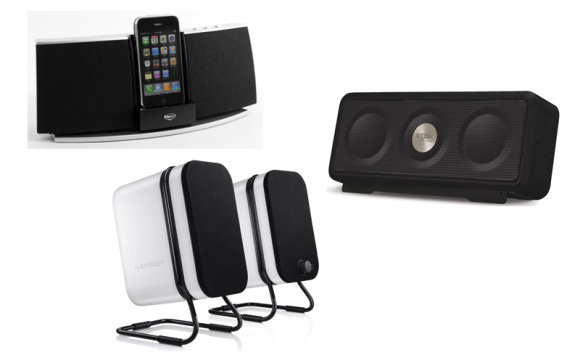 Computer speakers vs. docking speakers vs. wireless speakers
Will your new speakers be used mainly with a computer? If so, any set of standard "computer speakers"—a self-powered system you connect to your computer using a simple analog or digital cable—will work just fine; you just plug in and enjoy. Computer speakers also work with tablets, smartphones, and portable media players—you just connect a cable from the device's headphone jack to the speaker system. (Some smartphone charging docks and cradles even have a dedicated audio-out jack that provides higher-quality audio than the headphone jack offers.) But there are other options, as well.
If you're looking for speakers to be used primarily with Apple gear—iPhones, iPods, or an iPad—you may want to consider a system that includes a dock cradle featuring Apple's 30-pin dock connector or Lightning connector. The connector plugs into the port on the bottom of your device, letting the speaker system grab the highest-quality audio signal while simultaneously charging your player. (If the docking speaker system can run off AC or battery power, it likely charges your player only when the speakers are connected to AC power.) Some of these systems can also connect to your computer via USB, letting you sync your device with your computer while docked.
iOS devices released prior to the iPhone 5 in September 2012 use a 30-pin dock connector, while the iPhone 5 and subsequent devices use Apple's new Lightning connector—make sure you buy the right kind of dock for your particular device(s). To use an older, 30-pin speaker dock with newer, Lightning-connector devices, you'll need one of Apple's Lightning-to-30-pin adapters or a third-party adapter.
A few speaker systems that include an iPad-compatible dock cradle are out there, but not many. If none are to your liking, but you want the charging/syncing capabilities and better audio quality that come with a docking system, you can use an adapter cable such as CableJive's dockXtender basic ($16) or dockXtender ($26)—plus the appropriate Lightning adapter, if necessary—to connect your iPad to any system with an iPhone dock. Keep in mind that most iPhone/iPod speaker systems will charge the iPad slowly, if at all.
If you have a Windows Phone smartphone or an Android smartphone or tablet, speaker docks made specifically for these devices are few and far between, so I haven't included any in this year's list. However, you can connect Android and Windows Phone devices to any speaker system using a basic audio cable; CableJive's DockBoss lets you connect these devices to a 30-pin iPhone speaker dock; and a Bluetooth speaker system—see the next paragraph—is always a solid option.
The third option, and the one that's seen an explosion in popularity over the past couple years, is a wireless speaker system. Most of these connect using Bluetooth, a feature that's quickly becoming pervasive, especially on mobile devices. Some use Apple's AirPlay technology, which offers better range and audio quality than Bluetooth but works only with Apple devices. The big advantages of most wireless speaker systems are that you can use them with multiple devices and that you aren't tied to a particular location—you can walk around with your phone or tablet, and control audio playback from a chair or desk on the other side of the room.
iPhone and iPad dock compatibility
If you'll be using a docking speaker system with an iPhone or a 3G- or LTE-equipped iPad, look for one that sports the Made for iPhone or Made for iPad logo. Such products were developed according to Apple's specifications, so they're more likely to charge your device properly and less likely to suffer from interference due to your iPhone or iPad's wireless circuitry when not in AirPlane mode.
Multiple devices and multiple inputs
Planning to use your speakers with both a computer and a tablet, smartphone, or other media player? Wireless speaker systems (more on these below) usually make it easy to use multiple audio sources—assuming most of those sources feature Bluetooth.
If wireless isn't an option, many computer speakers have two inputs—you can connect an additional device to them by running an audio cable from the phone or tablet's headphone jack to the speaker's second input jack. Conversely, most speaker docks also have an auxiliary-input jack for connecting a computer or other audio source using a standard audio cable. (As noted above, there are also adapter cables that let you connect a computer to a speaker system that has only a 30-pin dock connector.) Make sure the speaker systems you're considering include such additional inputs.
Especially for computer speakers, look for systems with the additional inputs located where they're easily accessible, rather than inconveniently placed on the back of the speaker or on a subwoofer located under your desk. Also, when shopping for a speaker system to be used with multiple devices, consider where the speakers will sit: If you'll be doing a lot of listening at your computer, you'll likely want a system with separate left and right speakers—which usually means computer speakers. Otherwise, any design will do.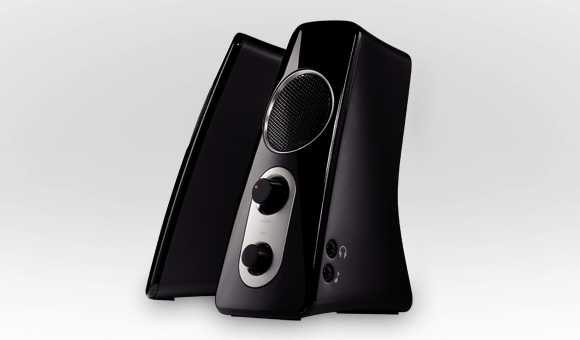 On-speaker controls for computer speakers
The most-basic computer-speaker systems have no controls of their own; you connect them to your computer and then adjust output volume using your computer. Look instead for systems that provide their own volume controls. Even better, many systems let you adjust bass and treble levels to fine-tune audio output for your particular listening environment. If the speakers you're considering include such options, be sure the controls are easily reachable—again, on the left or right speaker, or on a control pod or remote control, rather than on the back of a subwoofer that sits under your desk.
Price
To some extent, the more you pay for a set of speakers, the better the sound quality or the more features—or both—you get. Fortunately, speakers are among the most heavily discounted computer accessories, so be sure to shop around. Your budget may get you more than you think.
Read on for speaker types and recommendations.