SightSpeed Updates Video Messenger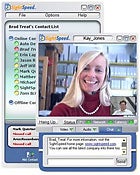 SightSpeed is both improving the quality of its video instant messaging client and cutting the price of the service, with the release of an updated version this week.
Video Messenger 2.0 offers a longer free trial period and cheaper pricing plan than the earlier release: $5 monthly or $50 per year of unlimited use. That pricing is one-quarter the cost of the previous version.
"At this price, users can communicate with high-quality video and audio for less than the cost of a telephone call," says Brad Treat, SightSpeed CEO.
SightSpeed has increased Video Messenger's free trial period from 7 to 15 days, making it easier to give this low-latency video IM service a whirl. After the trial, you can keep using SightSpeed for 15 minutes daily, up from 10 minutes under previous pricing.
New Interface
Video Messenger 2.0's pleasant-looking--if somewhat large--interface shows a contact list and the usual menus for actions and preferences. A separate video IM window--resizable in a choice of small, medium, or full-screen--pops up at a connection. You can open a separate text window to type messages or cut and paste data.
Subscribers can click on a new button in the IM client to invite nonsubscribers to chat through SightSpeed's Web interface. A video conversation requires that only one subscriber participate, and the service does not require both participants to have the client software installed, which is a boon to subscribers who can't (or don't want to) cajole contacts into downloading software.
SightSpeed improves audio support in version 2.0, as well. Audio worked in the initial release, but its reliability was less than perfect, says Dan Miller, managing director of venture firm The Roda Group, and SightSpeed chair.
"Now, audio has priority over video," Miller says. Missing a moment of spoken word is more confusing than missing a moment of facial expression, he notes.
Video Messenger 2.0 works on a broader range of connections than the earlier version, and notably supports 802.11 wireless networks. It also performs better on low-end broadband networks than its predecessor did, the vendor says.
Speed of Perception
Latency between audio and video causes the herky-jerky movements and bad lip sync that make conversations via some video instant messengers "like a badly dubbed Japanese movie," Miller says. SightSpeed concentrates on keeping latency around 70 milliseconds, well under the perceptible latency rate of 100 milliseconds.
SightSpeed personnel demonstrated Video Messenger 2.0 from their Berkeley, California, office to reporters in a Starbucks and in a PC World office. Video Messenger showed little latency in the demonstration, even when the cafe's busy wireless network roughened the rendering. Although the network's high traffic blurred SightSpeed CEO Treat's face slightly, he remained recognizable, and his lips moved in sync with his voice. The participating parties interrupted each another, and he paused when a reporter raised an eyebrow.
"Having banter is crucial to communication," Treat said.
"Videoconferencing has been the next big thing since 1964," adds Miller. "I think that this, after 40 years, will finally have an impact in how people communicate."