Tokyo Tech Envy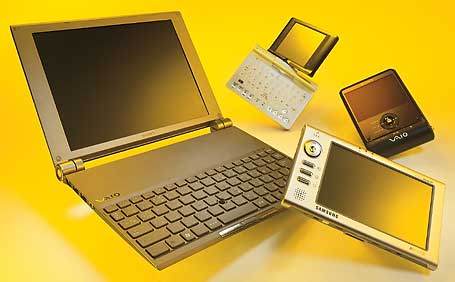 You've got techno-lust. You want to be the first to have the hottest technology, the kind that makes coworkers "oooh" and "aahhh." To find the most desirable stuff, though, you need to look east--to the Far East. These days, innovative electronics that make people coo show up first in Japan.
We're talking technology like sexy notebooks so small that you could lose them in an overcrowded backpack, wireless PDAs with glittering 5-inch screens, and digital cameras the size of matchboxes.
Take Sony's newest only-in- Japan notebook, the VAIO PCG-X505, which may be the world's thinnest notebook. This 1.7-pound featherweight, introduced in Japan in December, is less than half an inch thick at the front, causing retailers to joke to customers, "Don't cut yourself!" It also has a 10.4-inch LCD screen and a specially designed 3-inch-square motherboard.
Other examples? Well, while we're working ourselves into a delighted frenzy here in the States about taking adequate photos with our cell phones, Casio is selling Asian buyers its 2-megapixel A5403CA mobile phone--with auto focus and a digital 10X zoom. Was your first digital camera that hot? And forget still photos. Both TV and FM radio features are starting to show up in some cell phones in Japan.
And as for those DVD burners that Americans can't snap up fast enough, they're last week's sashimi compared to Sony's BDZ-S77 Blu-ray video recorder. This device's blue-violet laser technology lets you cram 23GB--five times the capacity of a DVD--onto a 12-centimeter disc so you can record and view high-definition television at full resolution. Now that's technology!
But it's not impossible for American connoisseurs to get their hands on these only-in-Japan products--and the truly possessed will go to extreme lengths to obtain them.
For instance, Ole J. Jacobsen, a Cisco Systems technical journal editor, often visits Tokyo's giant Akihabara electronics district to window-shop. "If anything is new, it's going to show up there first," he says.
A Yen for Gadgets
Can't trek to Tokyo? You still can satisfy your jones for Japanese goodies.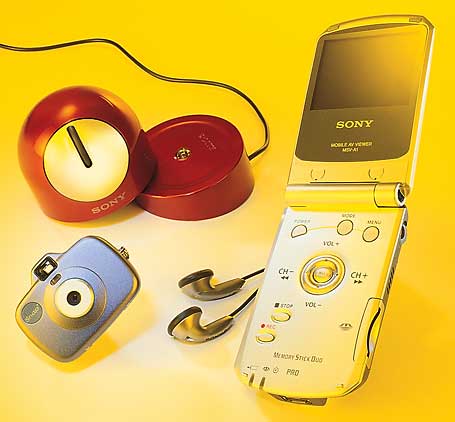 San Francisco technology executive and self-described Japanese-gadget freak John Petrone cruises newsgroups for tips and frequents Web sites such as Dynamism.com, Japan-direct.com, and Kemplar.com looking for electronics and gadgets not released stateside (see "Skip the Flight: Buy It Here").
"I just get a thrill from using the latest and greatest piece of hardware," Petrone explains. "However, it wears away, and then you need a new fix."
So what will wow us next? An American analyst who follows Asian technology has a few ideas: long, long battery life; teeny-tiny pocketable PCs; and really big displays.
Imagine your notebook staying fully powered for days, not hours, says Rob Enderle, principal analyst for the U.S. research firm Enderle Group. That's the promise of fuel-cell technology, expected on high-end business notebooks in Japan sometime during 2004. Fuel cells do not run down or need recharging as long as fuel is supplied.
Enderle also believes that truly modular consumer computers could hit Asia in 2004. These full-featured tiny PCs have a core component the size of U.S. hard drive?based MP3 players like Creative's Zen. Each portable rectangle will hold the user's software and data, plus a processor, memory, a hard drive, graphics and audio, and an operating system. Tote this pint-size PC around in your pocket, slip it into a handheld shell for use on the go, and then it plug into a docking station the size of a paperback book to use at your desk. Antelope Technologies, a U.S.-based firm, already sells one online, its $3970 Modular Computing Platform.
On the monitor front, Asian manufacturing fabrication plants will pump out more wide-aspect displays--including possibly a surround panel, although this may be prohibitively expensive, Enderle says. Look for an increase in the number of 40-plus-inch LCDs, too; prices will start high, but as they lower, big LCDs could crowd large plasma screens--now among the hottest of U.S. electronics--off the market.
And Douglas Krone, CEO of Dynamism.com, a Web site that sells hot Japanese technology, detects a few other trends: serious miniaturization, especially in notebooks; better casing materials such as nickel-reinforced carbon and carbon fiber; integrated 3D screens in notebooks, cell phones, and PDAs; and upgraded wireless capability.
Who's on First?
Why do so many innovative products appear in Japan first?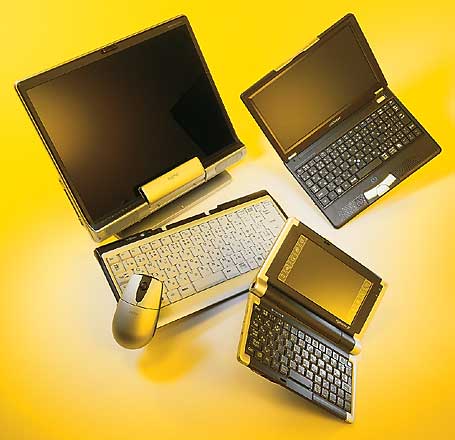 "Japanese consumers are serious technophiles and like to buy gadgets," explains Roger Kay, vice president of client computing for IDC, a market research firm. Also, Japanese consumers have an even more important trait, according to Kay: "They are far less price-sensitive than U.S. buyers." As a result, Asian manufacturers have more leeway to build well-designed or miniaturized products. "U.S. buyers are more no-nonsense. They want the best deal, the best product for the buck. That attitude tends to stifle innovation here. No one is interested in taking a risk on technology because there's [often] no payoff," Kay says.
Ultimately, this technology gap might mean that U.S. consumers end up with better products, notes Robert Haak, general manager of the Tokyo office of the Asian Technology Information Program.
"We argue the U.S. is getting the leftovers, but that may be good because they are getting second-generation technology after glitches have been removed and the products have been revised," Haak says.
But that's not good enough for Petrone, who says he will continue to browse Web sites and newsgroups to stay ahead of the game. He's already listed some of his current Japanese gear for sale on EBay--to make room for more.