At a Glance
Samsung YP-910GS

Dell Digital Jukebox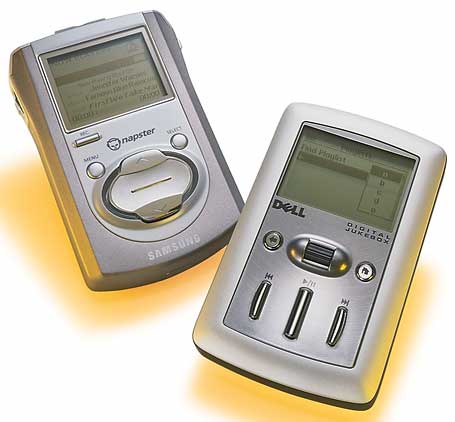 If you're going on a long trip--or if you need to have all your music with you all the time--you'll want a digital music player with lots of storage. New players from Dell and Samsung have 20GB hard drives that hold hundreds of hours of music. I tried shipping models of the $329 Dell Digital Jukebox (aka the DJ--the company's first MP3 player) and Samsung's $399 YP-910GS, designed to work with the new Napster music service (see page 42). Both units play MP3 and WMA files and accept file transfers from Windows Media Player and from their default applications.
The DJ's default software, Musicmatch's basic version, rips from CD slowly but simplifies syncing the music on the player with that on the PC.
Samsung's YP-910GS uses Napster's cumbersome software to transfer music from the service directly into the player, which includes an FM radio, records from either the radio or a line input (the DJ can record only from a built-in microphone), and has an FM transmitter for playing music through car stereo speakers.
Both players produce good-quality sound, come with a remote control, and have more-than-adequate battery life; in my informal testing, the YP-910GS lasted about 13 hours, and the DJ ran more than 20. You can't access the controls on the DJ when the player is in its slip-on cover, but you can with the YP-910GS.
The DJ is simple, businesslike, and attractively priced. The pricier YP-910GS offers more features, and its integration with Napster is a plus.
Dell Digital Jukebox
A no-fuss, no-frills hard-drive MP3 player that does the job.
Street: $329
Current Price (if available)
Samsung YP-910GS
A nice player with extra features, but it's somewhat expensive.
List: $399
Current Price (if available)
This story, "Hard-Drive Music Players" was originally published by PCWorld.
At a Glance
Samsung YP-910GS

Dell Digital Jukebox
Shop Tech Products at Amazon