At a Glance
Apex PC Solutions Apex DRX-9000

Panasonic DMR-E60S DVD Player (Panasonic-DMRE60S)

Philips DVDR80 DVD Recorder (Philips-DVDR80)

Pioneer DVR-810H-S DVD-R/RW Recorder with 80GB Hard Drive (Pioneer-DVR810HS)

Sony RDR-GX7 DVD Recorder / Player (Sony-RDRGX7)

Sharp DV-RW2U DVD-RW Recorder (Sharp-DVRW2U)
Page 2 of 2
DVD Media: No Single Standard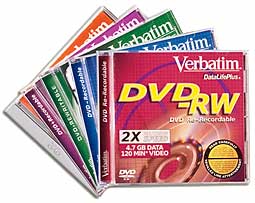 Set-top DVD recorders support at least one write-once format (either DVD-R or DVD+R) and at least one rewritable format (DVD-RW, DVD+RW, or DVD-RAM).
Write-once discs are less expensive, selling for approximately $3 apiece, while rewritable discs cost around $5 apiece. A DVD-RW or DVD+RW disc is rated to handle 1000 rewrites (and DVD-RAM is rated for something on the order of 100,000 rewrites) without suffering any quality loss. Such durability makes DVD media a bargain for preserving programs compared with relatively perishable magnetic VHS tape.
All of the recorders we reviewed will create discs that most DVD players can read, but because no model records to every format, you should check to see which formats the other DVD players in your household support, before you buy a recorder. Older DVD players tend to have more trouble with DVD-RW and DVD+RW discs, and few players--old or new--will read DVD-RAM discs.
The lone DVD-RAM unit we looked at, Panasonic's DMR-E60, also burns to DVD-Rs, which will work in most players. Meanwhile, Sony's RDR-GX7 is the only model that can burn to either DVD-R/RW or DVD+R/RW media.
This story, "Capture TV on DVD" was originally published by PCWorld.
At a Glance
Apex PC Solutions Apex DRX-9000

Panasonic DMR-E60S DVD Player (Panasonic-DMRE60S)

Philips DVDR80 DVD Recorder (Philips-DVDR80)

Pioneer DVR-810H-S DVD-R/RW Recorder with 80GB Hard Drive (Pioneer-DVR810HS)

Sony RDR-GX7 DVD Recorder / Player (Sony-RDRGX7)

Sharp DV-RW2U DVD-RW Recorder (Sharp-DVRW2U)
Shop Tech Products at Amazon