capsule review
Rio Nitrus
At a Glance
Rio Nitrus MP3 Player (Sonic Blue-90260465)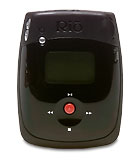 Smaller and lighter than typical hard-drive MP3 players, Rio's skinny 2-ounce Nitrus fits easily in a palm or shirt pocket. Like most hard-drive units, the 1.5GB Rio is powered by a rechargeable lithium ion battery. (An AC adapter is included for recharging.) Music sounded clear through the included Sennheiser MX300 earpiece headphones, with great bass and high volume.
Situated below the easy-to-read, small backlit LCD, the player's red, five-way joystick button advances through songs, pauses, and stops, plus it scrolls through menu items. A scroll wheel on the side is another navigational tool.
Transfer speeds over the unit's USB 2.0 interface were slow compared with those of larger-capacity hard-drive players; it took about 3 minutes to transfer approximately 60MB. As a result of the player's small size, the screen shows just ten characters, and artist and song names longer than that must scroll across.
But the Nitrus is pricey for its capacity and functionality. At $300, it costs $200 per gigabyte, whereas the 30GB Creative Nomad Jukebox Zen works out to $10 per gigabyte, and the 20GB Apple IPod at $400 translates to $20 per gigabyte. Unless you really need a small package (3 by 2.4 by 0.6 inches), this player isn't a great deal.
Installation is simple enough to perform without instructions, but should you need assistance the clear documentation guides you through setup. Rio's Music Manager software--bundled with the player--searches your hard drive for music and puts whatever it finds into the software's Music Library. Once music is in the Library, you can select tracks or albums to transfer from PC to player. The software also rips your CDs into Ogg Vorbis, Windows Media, or FLAC (Free Lossless Audio Codec) formats, but can encode your music into MP3s only with a premium upgrade, which costs $10. But plenty of free programs can convert CDs to MP3.
The 1.5GB Nitrus is among the smallest hard-drive-based players around, but you'll pay a premium for its size.
Alexandra Krasne
This story, "Rio Nitrus" was originally published by PCWorld.
At a Glance
Rio Nitrus MP3 Player (Sonic Blue-90260465)
Shop Tech Products at Amazon