capsule review
Creative Nomad Jukebox Zen NX
At a Glance
Creative Nomad Jukebox Zen NX MP3 Player (Creative Labs-70PD041000008)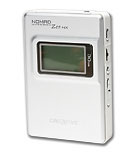 The Creative Nomad Jukebox Zen NX is rife with options for adjusting sound settings, making it a good choice for music aficionados and audio experts. It uses Creative's EAX sound processing to allow you to equalize settings, change room effects (you can simulate a living room, concert hall, garage, and other locations), or vary the playback speed of music and spoken words without changing the audio's pitch.
While the player is ensconced in its faux leather and neoprene case with belt clip, you can't see its LCD screen, but you can still access the controls flanking its sides. The device, about the size of a thick portable tape player, isn't something you can easily tuck into your pocket. It sports so many buttons and dials, the controls are a bit difficult to learn, too. But once you've figured out how the buttons work and their location, changing tracks and making adjustments is simple. For me, the controls proved hard to adjust while walking, but the scroll wheel allowed fast navigation through the music library. As with Apple's IPod, on the Nomad Zen you can save single tracks or whole albums to a playlist on the fly, rather than having to save a playlist on your PC and then download it to the player. The metal casing slides off the front of the player so you can remove the battery and replace it.
Using Creative's MediaSource Organizer to transfer music and data was simple enough to figure out without resorting to the electronic or paper manual. Transfer speeds were quick: Moving a 6MB song from PC to player over a USB 2.0 connection took an average of about 5 or 6 seconds. The Nomad Zen also doubles as a hard drive, so you can tote data in addition to music.
Through the Nomad Zen's analog-in or digital-in connection, you can record straight to the player from a variety of sources. You can choose to record files as either uncompressed .wav files or as MP3s in bit rates ranging from 128 kbps to 320 kbps.
The Nomad Zen offers a host of sound options, but its bulk makes it a bit complicated to use.
Alexandra Krasne
This story, "Creative Nomad Jukebox Zen NX" was originally published by PCWorld.
At a Glance
Creative Nomad Jukebox Zen NX MP3 Player (Creative Labs-70PD041000008)
Shop Tech Products at Amazon