XP Media Center, Take 2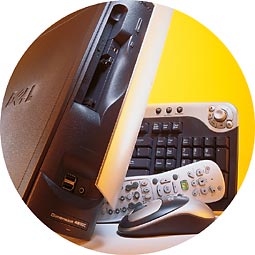 Microsoft's latest version of Windows XP Media Center Edition improves on the original's TV, photo, and music features, while adding new functions such as support for an optional FM radio tuner and links to online games and movies. Unlike the first version, which launched last fall exclusively on Hewlett-Packard systems and was gradually adopted by other vendors, Windows XP Media Center Edition 2004 (formerly code-named Harmony) will be on PCs from more than 40 computer makers worldwide, including Dell and Sony--notable holdouts last year. (Dell cites stability improvements as one reason for climbing aboard.)
Varying in form, from Gateway towers and Dell microtowers to HP and Toshiba laptops, these new Media Center PCs will all meet Microsoft's beefy hardware requirements, including a TV tuner and plenty of processing power to encode and decode video.
Living-Room PC
Though microsoft initially touted Media Center Edition systems for studio apartments and dorm rooms, where PCs might double for TVs, the company is now aiming more at the living room. The new Display Calibration Wizard helps users optimize settings for traditional CRT televisions as well as for digital projectors and wide-aspect LCD and plasma TVs. Media Center still doesn't support dual TV tuners for picture-in-picture mode or for recording one program while watching another, but product manager Tom Laemmel says that feature "has bumped up high on the list" for next time, as has high-definition TV support.
Other TV enhancements include a wizard that trains the Media Center infrared remote to work with more digital cable or satellite set-top boxes, and TiVo/ReplayTV-like genre filters that let viewers browse the free program guide by such categories as sports and movies.
Media Center 2004's new audio features include a basic FM tuner with a pause function that lets you walk away for up to 20 minutes without missing anything when you return (but you can't schedule advance recording as you can with TV). Media Center PCs can now rip a CD at the touch of a single button.
The last major addition, Online Spotlight, wasn't ready at press time, but Microsoft says the feature will link to other digital entertainment, such as on-demand movies from Movielink, paid music downloads from the soon-to-be-launched Napster 2.0, and games from WildTangent.
For owners of older Media Center PCs, Microsoft is providing upgrade software to system vendors, each of which will set the upgrade procedure and cost, Microsoft's Laemmel says. Gateway, for example, will offer the upgrade disc for free.
Competition
Meanwhile, some PC makers--even those carrying Media Center systems--are providing other entertainment software options. Sony, for example, will continue to install its GigaPocket audio-video software on several of its VAIO PCs. And Dell is providing its own Media Experience software--resembling a "lite" version of Windows XP Media Center Edition 2004 without TV- and radio-tuning capabilities--on all Dimension PCs that don't meet Microsoft's hardware requirements. If you're in the market for a living-room PC, you have more choices than ever.