Good-Bye, VHS; Hello, DVD
At a Glance
Hitachi DZ-MV350A DVD-CAM Camcorder (Hitachi-DZMV350A)

Sony DCR-TRV70 MiniDV Handy Camcorder (Sony-DCRTRV70)

Canon ELURA 50 Mini DV Camcorder (Canon-8713A001)

Sharp VL-Z7U Mini DV Camcorder (Sharp-VLZ7U)

Samsung SCD33 MiniDV Camcorder (Samsung-SCD33)
Page 9 of 10
Sharp Viewcam VL-Z7U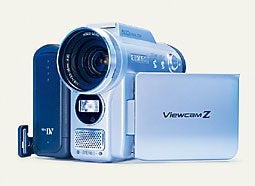 The Sharp Viewcam VL-Z7U has a much different design from the other camcorders reviewed here: Both the grip and the 2.5-inch (diagonal) LCD screen can pivot to different angles, so you can comfortably film from waist level or above your head while still using the hand strap. Although not the smallest camcorder in this group, its dimensions of 3.2 by 3.1 by 4.1 inches and its 1.1-pound weight meant that it was small enough and light enough to carry for an extended time. The controls are accessible from a four-way toggle switch just above the display, and they are straightforward and easy to use. The LCD was quite readable in most lighting conditions.
Like all the camcorders we tested, the VL-Z7U can save still images to a flash memory card: As a 1.3-megapixel still camera, it produced adequate pictures, although it won't replace a dedicated digital camera. It also comes with a flash that was useful for close shots but not much else. You can also transfer video frames from tape to the flash card as stills.
This camcorder delivered well-balanced color and correctly exposed images in most lighting conditions, although it lacks an infrared emitter for taking video in total darkness. The 10X optical zoom was good, but the 500X digital zoom was pretty useless beyond 20X, producing grainy, jittery images. In our informal tests, the standard battery lasted about 2 hours--long enough for a weekend of casual shooting.
Upshot: The Sharp Viewcam VL-Z7U has an innovative design that provides easy handling and produces good-quality video.
--Andrew Brandt
Sharp Viewcam VL-Z7U
Price when reviewed: $570
Current prices
(if available)
At a Glance
Hitachi DZ-MV350A DVD-CAM Camcorder (Hitachi-DZMV350A)

Sony DCR-TRV70 MiniDV Handy Camcorder (Sony-DCRTRV70)

Canon ELURA 50 Mini DV Camcorder (Canon-8713A001)

Sharp VL-Z7U Mini DV Camcorder (Sharp-VLZ7U)

Samsung SCD33 MiniDV Camcorder (Samsung-SCD33)
Shop Tech Products at Amazon