Good-Bye, VHS; Hello, DVD
At a Glance
Hitachi DZ-MV350A DVD-CAM Camcorder (Hitachi-DZMV350A)

Sony DCR-TRV70 MiniDV Handy Camcorder (Sony-DCRTRV70)

Canon ELURA 50 Mini DV Camcorder (Canon-8713A001)

Sharp VL-Z7U Mini DV Camcorder (Sharp-VLZ7U)

Samsung SCD33 MiniDV Camcorder (Samsung-SCD33)
Page 8 of 10
Samsung SCD33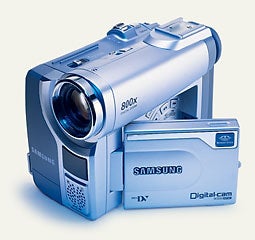 At $499, the SCD33, Samsung's MiniDV camcorder, is the lowest-priced model of the devices that we reviewed, yet it still delivers an impressive set of high-end capabilities for your household's low-budget video director.
For starters, there is a fine selection of features, including a very wide shutter speed range (from 1/10,000th of a second to 1/60th of a second); a built-in, 0.68-megapixel digital camera; and the ability to save highly compressed MPEG-4 video to a Memory Stick flash memory card (although a 16MB card can hold only a minute of video). Thanks to a combination of slow shutter speed and an infrared emitter, the camera's night vision capability lets you shoot scenes in total darkness, giving your campsite video the look and feel of a live-from-the-front-lines war report. As well, at 2.7 by 3.5 by 4.4 inches and just under a pound in weight, the SCD33 is small enough and light enough to carry around on a trip.
The camera's 10X optical zoom can bring you closer to the action, and it has an 800X digital zoom, although it is pretty much useless beyond 20X without a tripod, and even then produces grainy video. Shaky-handed cinematographers get a technical assist from the camera's digital image stabilization, which did a nice job of keeping the video steady.
The one weak spot in an otherwise good camcorder is its focusing. In many situations (especially in low light), the camera could not lock its autofocus consistently on the target, resulting in shots that looked like the lens was smeared with Vaseline as it attempted to focus. This effect got worse at the higher zoom settings. Switching to manual focus isn't a very satisfying solution, either, because the manual focus controls are awkward. You have to go through a menu rather than apply a physical control like a focus ring or a thumbwheel.
Upshot: Lots of nifty features wrap up a very reasonably priced, small, and light camcorder, but the sloppy autofocus--combined with the cumbersome manual focusing--is annoying.
--Andrew Brandt
Samsung SC-D33
Price when reviewed: $499
Current prices
(if available)
At a Glance
Hitachi DZ-MV350A DVD-CAM Camcorder (Hitachi-DZMV350A)

Sony DCR-TRV70 MiniDV Handy Camcorder (Sony-DCRTRV70)

Canon ELURA 50 Mini DV Camcorder (Canon-8713A001)

Sharp VL-Z7U Mini DV Camcorder (Sharp-VLZ7U)

Samsung SCD33 MiniDV Camcorder (Samsung-SCD33)
Shop Tech Products at Amazon