Good-Bye, VHS; Hello, DVD
At a Glance
Hitachi DZ-MV350A DVD-CAM Camcorder (Hitachi-DZMV350A)

Sony DCR-TRV70 MiniDV Handy Camcorder (Sony-DCRTRV70)

Canon ELURA 50 Mini DV Camcorder (Canon-8713A001)

Sharp VL-Z7U Mini DV Camcorder (Sharp-VLZ7U)

Samsung SCD33 MiniDV Camcorder (Samsung-SCD33)
Page 7 of 10
Hitachi DZMV350A DVD Camcorder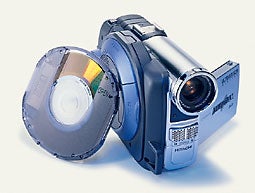 The Hitachi DZMV350A is an extremely small and portable camcorder, weighing only 1.3 pounds and measuring 3.5 by 2.2 by 5.3 inches. The camera's long battery life (over 2 hours), coupled with its slew of zoom, autofocus, and white-balance features, makes this product extremely attractive at first glance. It even shoots 1-megapixel still images and stores them on SD memory cards, and boasts an adequate 2.5-inch (diagonal) LCD and internal electronic viewfinder. But it's far from perfect.
What's unique about this camcorder is that it records onto 8-centimeter DVD discs that are much smaller than the normal recordable DVD discs. You can pop the disc right out of the camera and into your standard DVD player to view your movies in the comfort of your living room.
There are complications, however. The camera can use two types of 8cm DVD discs (both of which require a flimsy internal carrier)--DVD-R, $5 per disc; and DVD-RAM, $18. These discs are not widely available in stores, though you can buy them online. Each 8cm DVD-R disc can hold up to 60 minutes of video, while the DVD-RAM discs are double-sided and can hold up to 2 hours of video. To play the 8cm DVD-R discs on your home DVD player, you'll first need to "finish" the disk in the camera by completing a set of on-screen commands, which means you can't then record any more on it. Most home DVD players should be able to read these smaller discs, but some older models may not. The rewritable DVD-RAM discs can be reused (much like videotapes), but most home DVD players can't read them.
This format has some advantages, though: You needn't fast-forward and rewind to view clips or find a blank spot for recording because the camera can access each clip immediately. Video clips can be downloaded to your PC through the USB 2.0 connection, and the basic video editing software that is supplied can burn the edited video to DVD within the camcorder.
Upshot: This camcorder has plenty of nice features, but the mini-DVD format still needs its usability wrinkles ironed out.
--Chris Manners
Hitachi DZMV350A DVD Camcorder
Price when reviewed: $840
Current prices
(if available)
At a Glance
Hitachi DZ-MV350A DVD-CAM Camcorder (Hitachi-DZMV350A)

Sony DCR-TRV70 MiniDV Handy Camcorder (Sony-DCRTRV70)

Canon ELURA 50 Mini DV Camcorder (Canon-8713A001)

Sharp VL-Z7U Mini DV Camcorder (Sharp-VLZ7U)

Samsung SCD33 MiniDV Camcorder (Samsung-SCD33)
Shop Tech Products at Amazon