Good-Bye, VHS; Hello, DVD
At a Glance
Hitachi DZ-MV350A DVD-CAM Camcorder (Hitachi-DZMV350A)

Sony DCR-TRV70 MiniDV Handy Camcorder (Sony-DCRTRV70)

Canon ELURA 50 Mini DV Camcorder (Canon-8713A001)

Sharp VL-Z7U Mini DV Camcorder (Sharp-VLZ7U)

Samsung SCD33 MiniDV Camcorder (Samsung-SCD33)
Page 6 of 10
Digital Camcorders Reviewed
If you currently use an analog camcorder, you're probably thinking that upgrading to digital will save you from this conversion hassle in the future. It will--and not only that, you'll have better image and sound quality, too. Here are our reviews of five of the hottest digital camcorders, including one from Hitachi that records directly to DVD.
Canon Elura 50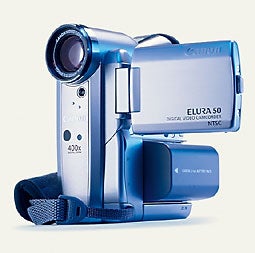 Just 2.2 inches wide by 4.4 inches deep by 3.5 inches tall and under a pound in weight, the Elura 50 is the smallest and lightest of the camcorders here. Its upright configuration packs a lot of features into a package that sits comfortably in the hand. The Record button, for instance, is right under the thumb for right-handed users, although southpaws and those with very small or very large hands may find its position awkward. The Elura 50 provides a good range of shooting modes, including two nighttime modes that use a slow shutter speed and a white LED (Canon calls it an "assist lamp") that illuminates the scene, but only for a few feet. The 10X optical zoom looks good, but the 400X digital zoom (like all digital zooms) produces grainy, blurry, and jerky-looking video at higher magnifications. A variety of special-effects modes (such as sepia, negative, and a fade between video and a still image) are also included. The camcorder can also take 0.7-megapixel still images and save them to an SD Card memory card, which can then be transferred to a PC through a USB connection.
The small size of the Elura 50 does have its downsides: The 2-inch (diagonal) LCD screen, although bright and easy to view in most lighting conditions, is smaller than the screens of the other camcorders we reviewed, so screening videos without plugging into an external TV would be awkward. The camcorder also has both composite and S-Video in and out ports. The standard battery is also smaller than most; it ran out of juice after just over an hour in our informal tests. Larger batteries are available: A $70 extended battery ran for over 2 hours, but it added significantly to the bulk of the camcorder.
Accessing the menu also leaves something to be desired, as it involves using all of the following: a menu button to get to the menu itself, a dial to move through the menu, and a set button to select an option. This approach is much less elegant than the single button-and-dial combination found on Sony's DCR-TRV70, albeit the steps are more of an inconvenience than a problem.
Upshot: The Canon Elura 50 provides a lot of camera in a small package, although some may find the unit's small screen and compact form awkward to use.
--Richard Baguley
Canon Elura 50
Price when reviewed: $650
Current prices
(if available)
At a Glance
Hitachi DZ-MV350A DVD-CAM Camcorder (Hitachi-DZMV350A)

Sony DCR-TRV70 MiniDV Handy Camcorder (Sony-DCRTRV70)

Canon ELURA 50 Mini DV Camcorder (Canon-8713A001)

Sharp VL-Z7U Mini DV Camcorder (Sharp-VLZ7U)

Samsung SCD33 MiniDV Camcorder (Samsung-SCD33)
Shop Tech Products at Amazon