Good-Bye, VHS; Hello, DVD
At a Glance
Hitachi DZ-MV350A DVD-CAM Camcorder (Hitachi-DZMV350A)

Sony DCR-TRV70 MiniDV Handy Camcorder (Sony-DCRTRV70)

Canon ELURA 50 Mini DV Camcorder (Canon-8713A001)

Sharp VL-Z7U Mini DV Camcorder (Sharp-VLZ7U)

Samsung SCD33 MiniDV Camcorder (Samsung-SCD33)
Page 3 of 10
Direct to DVD
If all you want is an exact copy of your tape without any edits, opt for a product that includes direct-to-disc capturing. This means the software captures the video, converts the file to DVD format, and burns it to a DVD, all automatically. Some programs (such as Sonic's MyDVD, included with Adaptec's VideOh DVD) record the video to your hard drive and then burn to a DVD-R or DVD+R disc. Others (such as Ulead's DVD MovieFactory 2, included with ADS's USB Instant DVD) can also record directly to rewritable DVDs, bypassing the hard drive. Either method handles the job without any intervention from you, so you can start the capture process and go have dinner--a definite bonus if you are planning to capture a lot of video.
The process worked surprisingly well for recording our home movies, automatically adding DVD menus and chapter points (you can choose how often to set an automatic chapter point). Ulead DVD MovieFactory 2's direct-to-disc wizard was the easiest to use, and the program can detect scenes and automatically add chapter points. Direct-to-disc encoding was, in fact, the easiest way to go from video to DVD in our testing, if you don't mind giving up creative control. You can't create sophisticated-looking DVD menus or trim the boring parts if you go direct to disc (although you can import the video into a video editing program, edit it, and then burn the edited result to DVD disc at a later date). It took about 10 minutes to capture, encode, and burn a 5-minute video clip to a DVD-R disc in MovieFactory, while the same process took 19 minutes in NeoDVD, which comes with the AVerMedia device. However, you do need a pretty powerful PC to capture the video, convert it, and then write it out to DVD in one pass. Our test system had no problem, but slower machines may not be capable of keeping up and may crash.
Making the Cut
Editing video, even on our fast test system with a gigabyte of memory, often involved waiting some time to see the final result. And during our editing runs--mostly with MPEG-2 video--we saw all of the video editing packages crash on occasion, so it makes sense to save often, or you could lose hours of work.
It's definitely worth spending some time tuning up your system before you start editing videos. Defragment your disks and make sure you have the latest drivers for your video capture device and the latest version of the capture software. You may also want to check your system and graphics board vendors' Web sites for the latest BIOS version and drivers.
Both the ATI and Pinnacle products include a version of Pinnacle's Studio 8 software, which is equally capable when capturing video, editing, adding transitions, or burning to DVD. The program's simple interface belies its deeper capabilities, such as the ability to adjust audio throughout a clip in real time, a great help for boosting dialogue or adding a background music track.
ADS's USB Instant DVD comes with Ulead's VideoStudio 7 SE, which offers both timeline and storyboard views for quickly arranging video clips and transitions into linear slots on the screen. The program offers more than 100 video transitions for moving gracefully between your video clips, and it provides 35 useful filters for improving picture quality--letting you, for example, adjust brightness or saturation using a simple slider.
Adaptec bundles ArcSoft ShowBiz with its VideOh DVD. ShowBiz is simple and user-friendly. The AVerMedia DVD EZMaker comes with the NeoDVD package, which includes Broderbund's MovieShop Select 6.5; it's a video editor that's cut from the same cloth as Ulead VideoStudio.



Getting It Write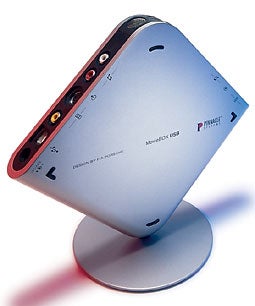 Some of these products also allow you to write your videos to videotape. This requires a video-out port, which all but the AverMedia DVD EZMaker and the Adaptec VideOh DVD have.
All the devices we looked at can write to DVD discs and support a wide range of drives. For more information on DVD burning, see "Put It on DVD."
The units here can also compress the video you capture into small files for showing on the Web or e-mailing, but ULead VideoStudio has an especially slick Share command that can in a single step generate a Web page with your video embedded as an MPEG-1 file, or attach the file directly to an e-mail message.
While the range of video editing possibilities can make your creative heart leap, you'll save rendering time and general headaches by keeping your projects no more complicated than they have to be. Just because a program comes with loads of fancy transitions and snazzy filters doesn't mean you should always use them. Filmmakers worldwide know that simple, straight cuts and less flashy effects are often the most effective and let you finish faster.
A good director begins with the end in mind. The decisions you make when you capture will greatly affect your video quality when it's time to put your production on tape or DVD. Capture at the highest quality, and any one of these products will do your VHS and 8mm tapes justice for this and future generations.
At a Glance
Hitachi DZ-MV350A DVD-CAM Camcorder (Hitachi-DZMV350A)

Sony DCR-TRV70 MiniDV Handy Camcorder (Sony-DCRTRV70)

Canon ELURA 50 Mini DV Camcorder (Canon-8713A001)

Sharp VL-Z7U Mini DV Camcorder (Sharp-VLZ7U)

Samsung SCD33 MiniDV Camcorder (Samsung-SCD33)
Shop Tech Products at Amazon