Good-Bye, VHS; Hello, DVD
At a Glance
Hitachi DZ-MV350A DVD-CAM Camcorder (Hitachi-DZMV350A)

Sony DCR-TRV70 MiniDV Handy Camcorder (Sony-DCRTRV70)

Canon ELURA 50 Mini DV Camcorder (Canon-8713A001)

Sharp VL-Z7U Mini DV Camcorder (Sharp-VLZ7U)

Samsung SCD33 MiniDV Camcorder (Samsung-SCD33)
Page 2 of 10
Plugging In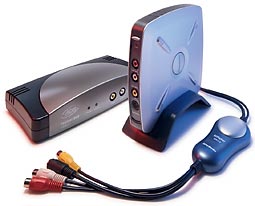 Our five video editing devices vary in their interfaces, their capabilities, and their software packages. Four of them are external devices that connect to your PC via USB 2.0 ports: the $90 AVerMedia DVD EZMaker; the $150 Adaptec VideOh DVD; the $160 ADS Instant DVD; and the sleek, Porsche-designed, $165 Pinnacle Studio MovieBox USB.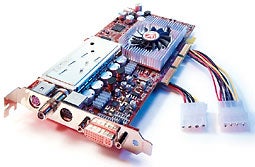 We also tried the high-end $449 ATI All-In-Wonder 9800 Pro, which is the most expensive of the group. Since it is a graphics board that plugs into the AGP slot on your motherboard, the All-In-Wonder 9800 also requires a more involved installation than the other products here. You'll have to hook up this powerhouse to one of your system's power leads (a splitter is included).
Importing Video
The ADS Instant DVD, Adaptec VideOh DVD, and Pinnacle Studio MovieBox USB devices include external breakout boxes that connect to your PC via a USB cable, making it convenient to hook up your camcorder to your PC when you want to capture video. These devices also contain chips that do the hard work of converting analog video to digital, taking some of the strain off the computer. If you're not using a very recent PC, you'll likely want to consider one of these products because video kits with hardware encoding require much less computing horsepower than their software-encoding counterparts. The AVerMedia DVD EZMaker (which relies on the PC to do the encoding) requires a 2-GHz processor or better, and Pinnacle recommends a 500-MHz processor at a minimum for its MovieBox USB.
The ADS USB Instant DVD is bundled with a program called CaptureWiz that gets high marks for smartly combining screen shots of the hardware connections and their corresponding software choices to illustrate the steps to connect your camcorder. The menus show you where to plug in an S-Video cable on the Instant DVD, for example, and which buttons to click in the software to begin capture.
All of the devices with breakout boxes capture audio as well as video through their USB connections, but the AVerMedia and ATI products send the audio signal from the camcorder to the line-in port of your PC's sound card with a provided cable. The All-In-Wonder board has proprietary cables that combine its S-Video connectors with audio into one small, round plug. One connector from the video/audio-out port must be plugged into the line-in port on your sound card.
In our subjective image quality tests, we saw very little difference between the products when capturing MPEG-2 video using the highest possible settings. The cheapest product, the AVerMedia, actually outscored all the others, but it beat out the next best, the Pinnacle, by only a hair. All the products captured good-quality video with accurate colors and smooth movement.
Captured video from your camcorder often has the tendency to be dark and oversaturated, but all of these products allow you to reduce the saturation and increase brightness while capturing. Such tweaking is much quicker during capture than afterwards, although the programs let you do this on previously captured video.
Picking a Format
Video eats amazing amounts of hard drive space, so you may be tempted to try to conserve disk space by capturing at less than the best quality setting. Think twice, though, because once you drop those bits, you can't get them back. You should import your video at a high enough bit rate that you won't have low resolution and blocky, choppy video when you create a DVD.
We encoded a video clip at the three quality settings offered by the Pinnacle Studio 8 application. For a snapshot of the results, see the table "Video: The Eyeball Test" below. The bottom line is that the lower quality settings let you fit more on your drive, but the video looks awful.
All five of these products offer preset quality options, which are typically classified by the end product you plan to create: DVD, Video CD (VCD), or Super Video CD (SVCD). If you know that your video is going straight to DVD, you'll want to stick with the quality setting for DVD, which uses MPEG-2 compression. If you capture your video in MPEG-2, you won't later have to convert it before burning a disc, a process that can take hours.
Compression Effects (chart)
Video: The Eyeball Test
Quality settings to encode video do matter, as results with Pinnacle Studio 8 show.
Pinnacle Studio 8 Quality Setting
Compression
type / data
rate
Space required
for 60 minutes
of video
(gigabytes)
Quality
rating
Comments
DVD High
MPEG-2/ 6000 kbps
2.74
Very good
Showed smooth action and accurate colors.
SVCD Medium
MPEG-2/ 2400 kbps
1.14
Good
Colors looked realistic, but the video was slightly jerky.
VCD Low
MPEG-1/ 1150 kbps
0.59
Poor
Produced jumpy video and unrealistic-looking colors.
How We Test: We captured a video recorded on a Sony DCR-TRV318 Hi8 analog camcorder using the ATI Radeon 9800 All-In-Wonder Pro graphics card, using the three different quality settings of Pinnacle Studio 8. The videos were played back on two calibrated 21-inch NEC monitors.
At a Glance
Hitachi DZ-MV350A DVD-CAM Camcorder (Hitachi-DZMV350A)

Sony DCR-TRV70 MiniDV Handy Camcorder (Sony-DCRTRV70)

Canon ELURA 50 Mini DV Camcorder (Canon-8713A001)

Sharp VL-Z7U Mini DV Camcorder (Sharp-VLZ7U)

Samsung SCD33 MiniDV Camcorder (Samsung-SCD33)
Shop Tech Products at Amazon