Good-Bye, VHS; Hello, DVD
At a Glance
Hitachi DZ-MV350A DVD-CAM Camcorder (Hitachi-DZMV350A)

Sony DCR-TRV70 MiniDV Handy Camcorder (Sony-DCRTRV70)

Canon ELURA 50 Mini DV Camcorder (Canon-8713A001)

Sharp VL-Z7U Mini DV Camcorder (Sharp-VLZ7U)

Samsung SCD33 MiniDV Camcorder (Samsung-SCD33)
Page 10 of 10
Sony DCR-TRV70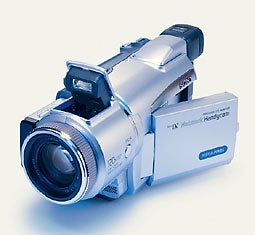 With one of the highest-resolution CCDs of any consumer camcorder, the Sony DCR-TRV70 takes wonderful-looking video footage. It's one of the most advanced consumer models we've seen, with an extremely effective image stabilizer and a very quick response to changing lighting conditions. The camera also offers several methods for shooting in low light, including a Super NightShot mode that lets you shoot in total darkness thanks to an infrared emitter. And the DCR-TRV70 focuses quickly, no matter what the lighting conditions.
The 2.5-inch LCD display is bright and easy on the eye, but accessing the controls is awkward: You use a stylus on the touch-sensitive LCD display, making navigation slower and much more laborious than if you were using buttons and/or dials on the body. The dial for switching among modes is set too close to the record button, so I often inadvertently started recording when I wanted to turn the camcorder off. And the zoom control is way too small: It's the size of a Tic-Tac. The moderate-sized body is heavy--just over a pound and a half with the battery--yet it fit my hand comfortably. It's also differently proportioned than the others, at 6.9 inches long but only 2.9 inches wide and 3.5 deep.
The 2-megapixel stills that the camera captures look adequate, but they're not even close to the quality of pictures taken with a digital still camera. You can e-mail stills and MPEG-1 movies from a Memory Stick and use the LCD screen as an Internet browser, but to do so you must purchase a $100 USB modem. This is also the first camcorder we've seen where you can transfer recorded video over a USB 1.1 connection, although the resulting video was jerky and pixelated.
Upshot: You'll admire the DCR-TRV70's image quality and sophisticated features but be vexed by its inane menu system.
--Alan Stafford
Sony DCR-TRV70
Price when reviewed: $1299
Current prices
(if available)
This story, "Good-Bye, VHS; Hello, DVD" was originally published by PCWorld.
At a Glance
Hitachi DZ-MV350A DVD-CAM Camcorder (Hitachi-DZMV350A)

Sony DCR-TRV70 MiniDV Handy Camcorder (Sony-DCRTRV70)

Canon ELURA 50 Mini DV Camcorder (Canon-8713A001)

Sharp VL-Z7U Mini DV Camcorder (Sharp-VLZ7U)

Samsung SCD33 MiniDV Camcorder (Samsung-SCD33)
Shop Tech Products at Amazon